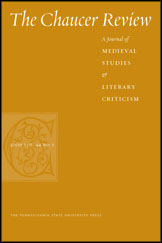 A Journal of Medieval Studies and Literary Criticism
Susanna Fein, Editor
David Raybin, Editor
ISSN 0009-2002
E-ISSN 1528-4204
Quarterly Publication
Subscribe:
Chaucer Review Print Ad Rates
Send orders, ads, and payment to:
PENN STATE UNIVERSITY PRESS
Journals Advertising Department
University Support Bldg. 1, Suite C
University Park, PA 16802-1003
(814) 863-5992
Fax: (814) 863-1408

Advertising Information:
Readers include scholars interested in Chaucer studies, Old and Middle English, and medieval studies.
Editors:
Susanna Fein and David Raybin
Ad Rates:
Full Page, 4 1/2 x 7 1/2, $300
Half Page, 4 1/2 x 3 1/2, $200
Deadlines
Issue Dates Reservations Due Artwork Due
January November 1 November 8
April February 1 February 8
July May 1 May 8
October August 1 August 8
No color ads accepted. Ads should be submitted in .pdf format, preferably by e-mail
All ads subject to approval of publisher
If you're interested in placing Internet ads in the Web-based JSTOR version of this journal, click here.
About Our Journals
Sign up for eTOCs through either JSTOR or Project MUSE!
Our journals are available electronically through JSTOR


and Project MUSE.
Penn State University Press Journals are distributed by Johns Hopkins University Press Fulfillment Services. By selecting the 'Subscribe' option, you will be redirected to the JHUP shopping cart for order processing. 'Johns Hopkins University Press' will appear on credit card statements
Pennsylvania History offers older issues via Open Access through the Office of Digital Scholarly Publishing
To contact the journals department with general questions about the program or to request article reprints, .