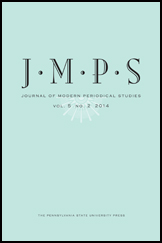 Patrick Collier
Barbara Green


Biannual Publication
ISSN 1947-6574
E-ISSN 2152-9272


All manuscripts must be submitted electronically at www.editorialmanager.com/JMPS/. Authors should submit article manuscripts (of 6,000-8,000 words), note manuscripts (up to 4,000 words), or review manuscripts (up to 2,000 words) styled according to the Chicago Manual of Style (15th edition). All visual images should be TIFF, EPS, or JPEG files, scanned at 300 dpi or greater resolution to a size appropriate for a journal page. The Review Editor, Barbara Green, should be consulted before submitting a review or review essay. Reviewers may consider not only books, but also exhibitions, digital sites, editions, and other materials of direct interest to the journal's primary field of interest. The author is responsible for obtaining all necessary copyright permissions and paying any requisite fees the use of any visual or textual materials used in his or her submission.
About Our Journals
Sign up for eTOCs through either JSTOR or Project MUSE!
Our journals are available electronically through JSTOR


and Project MUSE.
Penn State University Press Journals are distributed by Johns Hopkins University Press Fulfillment Services. By selecting the 'Subscribe' option, you will be redirected to the JHUP shopping cart for order processing. 'Johns Hopkins University Press' will appear on credit card statements
Pennsylvania History offers older issues via Open Access through the Office of Digital Scholarly Publishing
To contact the journals department with general questions about the program or to request article reprints, .