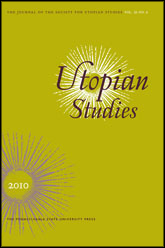 Nicole Pohl, Editor


Biannual Publication
ISSN 1045-991X
E-ISSN 2154-9648


SUBMISSION INFORMATION:
To submit a manuscript to the editorial office, please visit http://www.editorialmanager.com/uts/ and create an author profile. The online system will guide you through the steps to upload your manuscript. Submissions must follow the most recent Chicago Humanities Style guidelines and should include an abstract and brief biographical statement. The journal does not have a word limit for submissions. Please see the complete submission guidelines here
Call for Papers: Food and Utopia
Utopian Studies, the interdisciplinary journal of the Society for Utopian Studies, seeks essays for a special issue on utopian foodways, broadly conceived. Essays which employ or revise theories of utopia and/or food practices of the last decade are especially welcome.
Topics might include, but are not limited to:

Food in intentional communities: production, preparation, consumption, clean up, and/or disposal
Food practices in literary works
Food author studies (e.g. Michael Pollan, Margaret Atwood, Barbara Kingsolver)
School gardens
Food and waste: alternative production, consumption, and/or disposal
Urban food production: allotments, rooftop gardens, aviary and apiary practices
Utopian/dystopian diets: whole foods, slow foods, raw foods, supplements, GMOs, heirlooms
NGOs and global food concerns
Essays should be no more than 7000 words, inclusive of citations according to Chicago Manual of Style, and submitted by April 30, 2014, to each of the special issue editors:  Etta Madden, Professor of English, Missouri State University, ; Timothy Miller, Professor of Religious Studies, University of Kansas, ; and Lyman Tower Sargent, Professor Emeritus, University of Missouri, St. Louis, .
About Our Journals
Sign up for eTOCs through either JSTOR or Project MUSE!
Our journals are available electronically through JSTOR


and Project MUSE.
Penn State University Press Journals are distributed by Johns Hopkins University Press Fulfillment Services. By selecting the 'Subscribe' option, you will be redirected to the JHUP shopping cart for order processing. 'Johns Hopkins University Press' will appear on credit card statements
Pennsylvania History offers older issues via Open Access through the Office of Digital Scholarly Publishing
To contact the journals department with general questions about the program or to request article reprints, .