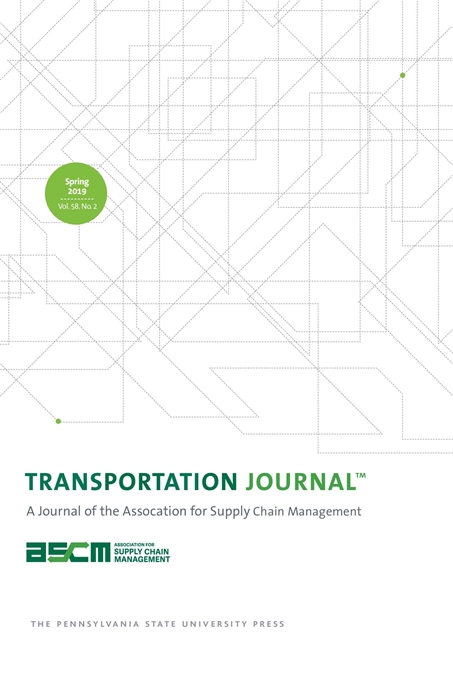 Transportation Journal
Mary Holcomb, Editor
Yoshinori Suzuki, Editor
SUBSCRIBE / RENEW
Transportation Journal
Mary Holcomb, Editor
Yoshinori Suzuki, Editor
Description

Board

Submissions

Pricing

Indexing
CO-EDITOR SEARCH:
APICS is seeking a Co-Editor for the Transportation Journal. Terms of service and qualifications are described below. Applicants should provide a current vita and short proposal describing their vision for the journal and the ability of their institution to support the editorship. Those interested in applying should contact Dr. Mike Ogle, Sr. Director of Academics & Research, APICS, at mogle@apics.org or Dr. Yoshinori Suzuki, Co-Editor, Transportation Journal, at ysuzuki@iastate.edu to receive more detailed information about the editorial responsibilities. Proposals and queries should be sent to Dr. Mike Ogle. For full consideration, applicants should submit their materials by October 1, 2018.
Term of Office:
The incoming co-editor will serve for six years beginning October 1, 2018. The first three months (October – December 2018) will be used as the transition period, where the new co-editor will be working closely with, and getting help from, the departing co-editor, Dr. Mary Holcomb.
Qualifications:
Co-editors are full-time, senior faculty members at schools accredited by the American Assembly of Collegiate Schools of Business, who (a) have established reputations in the overall field of transportation, logistics, and supply chain management, (b) are members in good standing of the APICS, and (c) possess the time, motivation, integrity, and administrative and inter-personal relations skills required for effective and timely execution of all duties of the position. Preference for a co-editor will be given to a faculty member with expertise in empirical research.
It is desirable that the school at which the Co-Editor is a faculty member provide the necessary administrative support services for the Co-Editor. In addition, the school is expected to support travel of the Co-Editor to visit the journal publisher as needed and professional meetings involving Transportation Journal-related activities.
--------------------------------
Transportation Journal is devoted to the publication of articles that present new knowledge relating to all sectors of the supply chain/logistics/transportation field. These sectors include supply chain/logistics management strategies and techniques; carrier (transport firm) and contract logistics firm (3PL and 4PL) management strategies and techniques; transport economics; regulation, promotion, and other dimensions of public policy toward transport and logistics; and education.
It is a journal of APICS Supply Chain Council.
Editors
Mary Holcomb
Yoshinori Suzuki
Regional Editors
Juan Carlos Martín Hernández
S. I. Ivan Su
Associate Editors
John Bell
David Cantor
Thomas Corsi
Stanley Griffis
Robert Novack
Assistant Editor
Carrie Ann King Johnson
Book Review Editor
Richard R. Young
Editorial Board
Yemisi A. Bolumole
Haozhe Chen
Michael R. Crum
Patricia Daugherty
Martin Dresner
Thomas Goldsby
Scott Grawe
Curtis M. Grimm
Svienn Gudmundsson
Christian Hofer
Deepak Iyengar
Milan Janic
Carol J. Johnson
Scott B. Keller
Steve Leon
Ira A. Lewis
Robert C. Lieb
Michael Maloni
Karl Manrodt
Ila Manuj
Keith Mason
John Mello
Subhro Mitra
Paul R. Murphy
Tobin Porterfield
John Saldanha
Tobias Schoenherr
Richard D. Stewart
Pete Swan
Evelyn Thomchick
John E. Tyworth
Bijan Vasigh
David B. Vellenga
W. David Walls
Ling Wang
Robert J. Windle
Kefeng Xu
Zach Zacharia
Walter Zinn
To submit a manuscript to the editorial office, please visit http://www.editorialmanager.com/transjour/ and create an author profile. The online system will guide you through the steps to upload your manuscript.
Institutional Print & Online - $461.00
Institutional Print or Online - $330.00
Institutional Single Issue - $88.00
Individual Print & Online - $222.00
Individual Print or Online - $161.00
Individual Single Issue - $45.00
Outside US add Shipping & Handling - $38.00
IBZ
SCOPUS
Social Science Citation Index