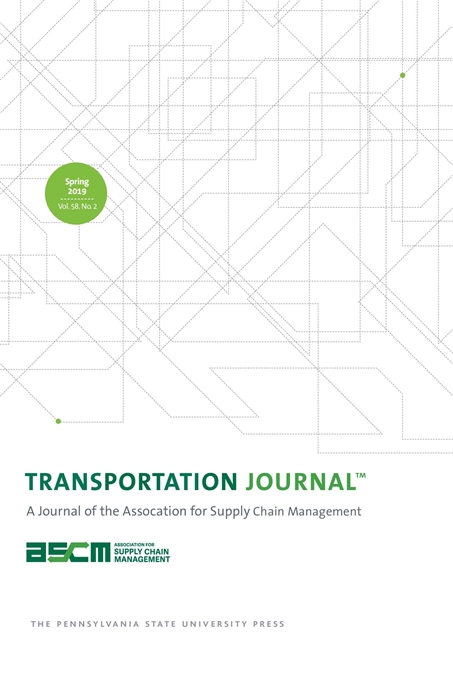 Transportation Journal
Mary Holcomb, Editor
Yoshinori Suzuki, Editor
Richard R. Young, Editor
SUBSCRIBE / RENEW
Transportation Journal
Mary Holcomb, Editor
Yoshinori Suzuki, Editor
Richard R. Young, Editor
Description

Board

Submissions

Pricing

Indexing
Transportation Journal is devoted to the publication of articles that present new knowledge relating to all sectors of the supply chain/logistics/transportation field. These sectors include supply chain/logistics management strategies and techniques; carrier (transport firm) and contract logistics firm (3PL and 4PL) management strategies and techniques; transport economics; regulation, promotion, and other dimensions of public policy toward transport and logistics; and education.
It is a journal of APICS Supply Chain Council.
Editors
Mary Holcomb
Yoshinori Suzuki
Richard R. Young
Regional Editors
Juan Carlos Martín Hernández
S. I. Ivan Su
Associate Editors
John Bell
David Cantor
Thomas Corsi
Stanley Griffis
Robert Novack
Assistant Editor
Carrie Ann King Johnson
Book Review Editor
Richard R. Young
Editorial Board
Yemisi A. Bolumole
Haozhe Chen
Michael R. Crum
Patricia Daugherty
Martin Dresner
Thomas Goldsby
Scott Grawe
Curtis M. Grimm
Svienn Gudmundsson
Christian Hofer
Deepak Iyengar
Milan Janic
Carol J. Johnson
Scott B. Keller
Steve Leon
Ira A. Lewis
Robert C. Lieb
Michael Maloni
Karl Manrodt
Ila Manuj
Keith Mason
John Mello
Subhro Mitra
Paul R. Murphy
Tobin Porterfield
John Saldanha
Tobias Schoenherr
Richard D. Stewart
Pete Swan
Evelyn Thomchick
John E. Tyworth
Bijan Vasigh
David B. Vellenga
W. David Walls
Ling Wang
Robert J. Windle
Kefeng Xu
Zach Zacharia
Walter Zinn
Institutional Print & Online - $439.00
Institutional Print or Online - $314.00
Institutional Single Issue - $138.00
Individual Print & Online - $211.00
Individual Print or Online - $153.00
Individual Single Issue - $74.00
Outside US add Shipping & Handling - $36.00
IBZ
SCOPUS
Social Science Citation Index
Mailing List
Subscribe to our mailing list and be notified about new titles, journals and catalogs.