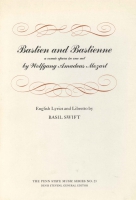 Bastien et Bastienne
Mozart, Wolfgang Amadeus with English libretto by Basil Swift
---
In 1768 when Mozart was asked by Dr. Anton Mesmer to provide a short operetta for his garden theater, he set to work on a German version, with F.W. Weiskern, of Madame Favart's parody on Rousseau's Le Devin du Village, and Bastien et Bastienne was in due course warmly received and frequently revived. Two other works belonging to the same year, 1768, have not survived, so that Bastien et Bastienne gives us a unique opportunity to appraise Mozart's progress as an operatic composer before he even reached what is now known as teenage status.
The music of this charming pastoral suggests some affinities with the French style, but its freshly fragrant tunefulness foreshadows some of the greater works which Mozart eventually wrote. What is much more important is he continuing validity of he operetta as performing material today. The music is delightful and relatively easy; the cast is small and the staging not at all complex; brevity of the work burdens neither the performers—even youthful ones—nor the audience.
What has long been needed for such presentation is an apt, accurate, and flowing translation—above all, one that is singable—and this the poet Basil Swift has for the first time provided. Mr. Swift is rapidly becoming recognized as a leading creative translator of classical choral lyrics. His new, imaginative libretto to Bastien et Bastienne, introduced by Denis Stevens and with pianoforte reduction by Paul Helmer, offers a sparkling re-creation in which dialogue, staging, and lyrical poetry are delightfully blended.
Other Ways to Acquire
Buy from Amazon.com

Buy from an Independent Bookstore
Buy from Powell's Books
Buy from Barnes and Noble.com

Join
Sign up for e-mail notifications about new books and catalogs!
Related Subjects