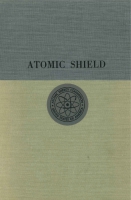 Atomic Shield, 1947–1952
A History of the United States Atomic Energy Commission, Volume II
Copyright: 1962
Dimensions: 7 x 9.5
Page Count: 800 pages
Hardcover ISBN: 978-0-271-00103-6
Winner of the 1970 David B. Lloyd Prize for the Best Book on the Period of the Presidency of Harry S. Truman from the the Harry S. Truman Library Institute
This second volume of the history of the United States Atomic Energy Commission starts with the transfer of the government's program to the Atomic Energy Commission on January 1, 1947, and covers developments through 1952. Included in the broad treatment are discussions of attempts to retain civilian control of atomic energy, the political struggle over the appointment of David E. Lilienthal as chairman in 1947, the Berlin blockade, efforts to build an atomic stockpile, negotiations for international control, the debate over development of thermonuclear weapons, the impact of the Korean War on atomic-energy policy, and major research and administrative developments during the period.
From the reviews of Volume I: "A work of merit and great importance," (Saturday Review). "Impressive and richly documented," (Foreign Affairs). "An honorable and worthy accomplishment," (Scientific American).
Other Ways to Acquire
Buy from Amazon.com

Buy from an Independent Bookstore
Buy from Powell's Books
Find in a Library
Join
Sign up for e-mail notifications about new books and catalogs!
Related Subjects