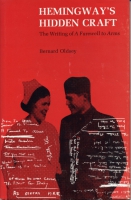 Hemingway's Hidden Craft
Copyright: 1979
Dimensions: 5.5 x 8.5
Page Count: 134 pages
Hardcover ISBN: 978-0-271-00213-2
---
The story of Hemingway's composition of his classic war novel, this book gives revealing insights into the artistic method of a master writer. Bernard Oldsey—a published novelist as well as teacher and critic—has uncovered new evidence of Ernest Hemingway's exact and sensitive craftsmanship. This evidence includes transcripts of two handwritten chapters constituting the earliest beginning of the novel known to exist, as well as forty-one variant endings—material published here in full for the first time by permission of Mary Hemingway.
Following an introduction on the novel's publishing history in the context of the novelist's career, Professor Oldsey's chapters examine Hemingway's selection of a title; his development of settings, characters, and plot elements inspired by his own war experiences; his struggle to find an opening with the best possible "poetic method, dramatic structure, and narrative overview"; and his search for the right ending to complete the novel's circle "by a geometry of his own."
The thirty-three titles considered by Hemingway are discussed in Chapter 1, which shows the counterpoint between his quest for a title and his composition of the novel. Chapter 2 shows the differences between A Farewell to Arms and the novelist's actual experiences in the Italian campaign, in the context of a general consideration of the relation of autobiography to fiction. Chapter 3 shows for the first time the drastic adjustment Hemingway made in the novel's opening, choosing a lyrical description rather than beginning in the midst of the action as he first intended. Chapter 4 shows Hemingway's forty rejected attempts before he "obtained the flat, nihilistic, numbing conclusion that the novel now has"—and needs in order to avoid false sentimentality.
Appendixes present transcripts of the original beginning and variant endings from manuscripts contained in the Hemingway Collection of the John F. Kennedy Library.
Other Ways to Acquire
Buy from Amazon.com

Buy from an Independent Bookstore
Buy from Powell's Books
Buy from Barnes and Noble.com
Find in a Library
Join
Sign up for e-mail notifications about new books and catalogs!
Related Subjects