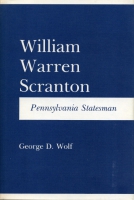 William Warren Scranton
Copyright: 1982
Dimensions: 6 x 9
Page Count: 230 pages
Illustrations: 13 b&w illustrations
Hardcover ISBN: 978-0-271-00278-1
Series Name: Keystone Books®
---
William Warren Scranton's long and distinguished career marks him as one of the foremost political figures to have emerged from Pennsylvania in this century; yet surprisingly this book is the first biography of a man whose reputation extends well beyond the borders of his home state. Indeed, this Pennsylvanian has brought honor to his state at both the national and international levels and has won the affection and respect of observers from all segments of the political spectrum.
The scion of a wealthy, aristocratic family, Bill Scranton began his public life in the city that bears his family name. He was weaned on politics by his mother, Marion Margery Scranton (known as "The Duchess"), a National Committeewoman and longtime force in the Pennsylvania Republican Party who saw to it that her son met many of the most influential politicians of the day. Scranton attended Yale College and Law School, where his classmates included Gerald R. Ford, Byron White, and Potter Stewart. His commitment to his home town brought him back to spearhead a drive for the economic development of the region, a task which occupied him for the next several years. His first political position was as Special Assistant to the Secretary of State during the Eisenhower administration, a job that started him down a path that eventually included stints as Congressman, Governor of Pennsylvania, presidential candidate, UN ambassador, and much more. The charm, grace, and diligence that are the hallmarks of his political style have built him a loyal following throughout the nation.
In writing this biography, the author was fortunate to have access to all of Scranton's gubernatorial papers and many of his files from the UN; but the book also contains many personal insights and reminiscences, for Dr. Wolf served as a special assistant to Governor Scranton and has maintained close ties with the family ever since. The continued prominence of the Scranton name, seen most recently in the election of Scranton's son, Bill III, as lieutenant governor, makes this book an important and timely contribution to the political history of Pennsylvania.
Other Ways to Acquire
Buy from Amazon.com

Buy from an Independent Bookstore
Buy from Powell's Books
Buy from Barnes and Noble.com
Find in a Library
Join
Sign up for e-mail notifications about new books and catalogs!
Related Subjects