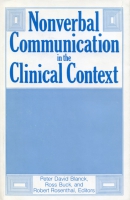 Nonverbal Communication in the Clinical Context
Copyright: 1986
Dimensions: 6 x 9
Page Count: 336 pages
Hardcover ISBN: 978-0-271-00394-8
---
Nonverbal interaction between therapists and clients is examined here for the benefit of both practitioners and researchers. Practitioners of medicine, psychotherapy, counseling, and other helping professions will gain insight into the messages conveyed from and to clients through expression, tone of voice, and "body language." Researchers in the behavioral and medical sciences will gain information about the social functions and biological substrates of nonverbal communication.
A revolution in the understanding of human nature has occurred during the past twenty-five years—a revolution based on interrelated and interdisciplinary developments in the areas of brain functioning, stress-related disease, and emotional expression and communication. These developments have been mutually reinforcing, as this book makes clear. One chapter considers evidence that nonverbal expression and receptivity involve the right hemisphere of the brain more than the left; and all ten chapters emphasize the distinction between spontaneous emotional communication and intentionally or linguistically structured behavior.
The book's general introduction places the chapter content in its clinical context, both in terms of how findings from the clinic are used analytically and how analytical conclusions can be used in the clinic. The six chapters of Part I, Social Functions, are preceded by an introduction showing how the research reported here illuminates many major topics of clinical concern. Part II, Biological Functions, is devoted to the analysis of the brain mechanisms underlying nonverbal communication and the clinical evidence for, and implications of, this analysis. The final chapter is a major effort to integrate the cognitive abilities of both voluntary (symbolic) and spontaneous (nonverbal) communication.
Other Ways to Acquire
Buy from Amazon.com

Buy from an Independent Bookstore
Buy from Powell's Books
Buy from Barnes and Noble.com
Get a License to Reuse
Find in a Library
Join
Sign up for e-mail notifications about new books and catalogs!
Related Subjects