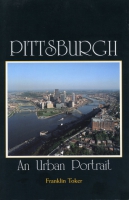 Pittsburgh: An Urban Portrait
Copyright: 1989
Dimensions: 6 x 9
Page Count: 359 pages
Illustrations: 247 b&w illustrations/
Hardcover ISBN: 978-0-271-00415-0
Paperback ISBN: 978-0-271-00438-9
"For each section he provides a detailed description—emphasizing any outstanding architecture—ideal for a walking tour. Even Pittsburghers who think they know their own neighborhood may learn a few things from this book."
"A sensitive and highly readable guide to the city . . . . fills in a gap in the literature about the city that every reader, once he sees the book, will relish having filled with such style."
In Pittsburgh: An Urban Portrait Franklin Toker analyzes the city with the insights gained from his earlier studies as an archaeologist, art historian, and urban historian. He provides the first contextual study of H. H. Richardson's Allegheny County Courthouse and Jail, of Frank Lloyd Wright's Fallingwater, and of 500 other works that constitute the greatest assemblage of architectural masterpieces in America.
Other Ways to Acquire
Buy from Amazon.com

Buy from an Independent Bookstore
Buy from Powell's Books
Buy from Barnes and Noble.com
Get a License to Reuse
Find in a Library
Join
Sign up for e-mail notifications about new books and catalogs!
Related Subjects