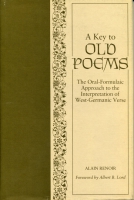 A Key to Old Poems
The Oral-Formulaic Approach to the Interpretation of West-Germanic Verse
Copyright: 1988
Dimensions: 6 x 9
Page Count: 230 pages
Hardcover ISBN: 978-0-271-00482-2
---
This book examines the fundamental principles whereby the tradition of Indo-European oral-formulaic composition provides a context for the critical interpretation of certain kinds of English and German Medieval poetry. Renoir's purpose is to apply the rapidly increasing amount of original and far-reaching research in oral-formulaic theory and tradition to the critical interpretation of poetry. He concentrates on works of recognized literary merit, such as Beowulf and the Hildebrandslied, primarily because the book is aimed at English speakers—and the examination of major poems drawn from early English and immediately related cultures is more relevant to this audience—and because a preponderance of the masterpieces of oral-formulaic composition that have survived are in the West-Germanic tradition.
In contrast to many oral-formulaic investigations, this study is primarily concerned with the literary quality of the materials examined. It is addressed to all scholars concerned with Medieval English poetry and its roots, scholars concerned with Germanic philology and oral-formulaic matters, and scholars concerned with literary interpretation in general. Further, it has considerable potential for use by students and in the classrooms.
Other Ways to Acquire
Buy from Amazon.com

Buy from an Independent Bookstore
Buy from Powell's Books
Buy from Barnes and Noble.com
Find in a Library
Join
Sign up for e-mail notifications about new books and catalogs!
Related Subjects