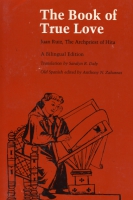 The Book of True Love
Copyright: 1978
Dimensions: 6 x 9
Page Count: 400 pages
Hardcover ISBN: 978-0-271-00523-2
Paperback ISBN: 978-0-271-00545-4
Winner of the 1980 Harold Morton Landon Translation Award from the American Academy of Cluny III
One of the great ironic moral comedies of the late Middle Ages, Libro de Buen Amor holds a place in Spanish literature comparable with that of Chaucer's Canterbury Tales in the English tradition. This edition presents, on facing pages, the Salamanca Old Spanish text (dated 1343) and the first English-language verse translation since 1933.
The fictional autobiography of the picaro Archpriest of Hita, Juan Ruiz, is a treasury of fables and fabliaux, mock heroic allegory, joyous parodies of churchly and legal ritual—all digressions to the hilarious tale of the persistent but abortive adventures of the author as lover. Lord Love and Lady Venus advise with their Ovidian Arts of Love. The Archpriest himself consistently maintains that his "models for sinning" will be read virtuously by the virtuous though salaciously by the wicked—in this moral ambiguity resembling Boccaccio of the Decameron and Chaucer of the bawdier tales.
Although the Salamanca text is used, as the most complete extant version of Ruiz's work, gaps are filled from the Gayoso manuscript, and variant readings are given from this and the Toledo fragment. Textual spellings are changed to conform with modern Spanish usage, but without sacrificing the phonological characteristics of Old Spanish. The translation (which starts from a draft by the late Hubert Creekmore) attempts to approximate the techniques of the medieval poet. Within the demanding limits of a verse form faithful to the original, the translation uses devices of medieval rhetoric, particularly wordplay.
A Reader's Guide follows the text and translation, as a means of avoiding the distraction of line-by-line annotation, and an annotated bibliography leads to major critical themes and controversies still surrounding Ruiz. The introduction describes the poet's virtuoso display of poetic forms, which relate this intensely Spanish work to the literature of medieval Europe, and appraises the poet's consciousness as one relevant to modern social tensions.
Other Ways to Acquire
Buy from Amazon.com

Buy from an Independent Bookstore
Buy from Powell's Books
Buy from Barnes and Noble.com
Find in a Library
Join
Sign up for e-mail notifications about new books and catalogs!
Related Subjects