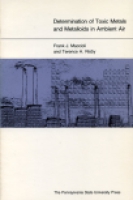 Determination of Toxic Metals and Metalloids in Ambient Air
Copyright: 1978
Dimensions: 6 x 9
Page Count: 128 pages
Illustrations: 7 b&w illustrations
Paperback ISBN: 978-0-271-00532-4
---
Man has lived for hundreds of years in an atmosphere polluted by dusts and harmful compounds emitted from such natural sources as forest fires, volcanoes, and decaying organic materials. In recent years man's contribution to this pollution has created much cause for concern. The total quantity of pollutants produced by man is far less than that occurring in nature; however, it may be of much more importance because of its character and because it is generally concentrated in relatively small, localized areas of large population. The need for effective analytical systems to aid in the determination and character of these pollutants is essential.
This book deals with the chemical analysis of certain toxic metals and metalloids commonly emitted into the atmosphere. It consists of a general description of the toxic elements and their sources, sampling procedures, and theoretical and practical considerations necessary when utilizing a particular analytical technique.
It will prove useful and educational to both the novice and the professional interested in air pollution.
Other Ways to Acquire
Buy from Amazon.com

Buy from an Independent Bookstore
Buy from Powell's Books
Buy from Barnes and Noble.com
Get a License to Reuse
Find in a Library
Join
Sign up for e-mail notifications about new books and catalogs!
Related Subjects