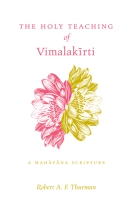 The Holy Teaching of Vimalakīrti
Copyright: 1976
Dimensions: 6 x 9
Page Count: 117 pages
Hardcover ISBN: 978-0-271-01209-4
Paperback ISBN: 978-0-271-00601-7
---
This book presents the major teachings of Mahāyāna Buddhism in a precise, dramatic, and even humorous form. For two millennia this Sūtra, called the "jewel of the Mahāyāna Sūtras," has enjoyed immense popularity among Mahāyāna Buddhists in India, central and southeast Asia, Japan, and especially China, where its incidents were the basis for a style in art and literature prevalent during several centuries.
Robert Thurman's translation makes available in relatively nontechnical English the Tibetan version of this key Buddhist scripture, previously known to the English-speaking world only through translations from Chinese texts. The Tibetan version is generally conceded to be more faithful to the original Sanskrit than are the Chinese texts. The Tibetan version also is clearer, richer, and more precise in its philosophical and psychological expression. The twelve books of the Sūtra are accompanied by an introduction and an epilogue by Dr. Thurman and by three glossaries: Sanskrit terms, numerical categories, and technical terms.
Other Ways to Acquire
Buy from Amazon.com

Buy from an Independent Bookstore
Buy from Powell's Books
Buy from Barnes and Noble.com
Get a License to Reuse
Find in a Library
Get the
Google Play Edition
Join
Sign up for e-mail notifications about new books and catalogs!
Related Subjects