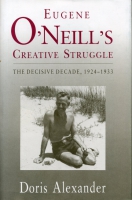 Eugene O'Neill's Creative Struggle
The Decisive Decade, 1924–1933
Copyright: 1992
Dimensions: 6 x 9
Page Count: 348 pages
Hardcover ISBN: 978-0-271-00813-4
Paperback ISBN: 978-0-271-02796-8
Paperback Edition: $30.95
"Eugene O'Neill's Creative Struggles will become one of the handful of standard studies of O'Neill's life and work."
"A unique and extremely valuable work. Reading this book is also a delightful experience—the imaginative quality of the scholarship is dazzling."
In Eugene O'Neill's Creative Struggle, Doris Alexander gives us a new kind of inside biography that begins where the others leave off. It follows O'Neill through the door into his writing room to give a blow-by-blow account of how he fought out in his plays his great life battles—love against hate, doubt against belief, life against death—to an ever-expanding understanding. It presents a new kind of criticism, showing how O'Neill's most intimate struggles worked their way to resolution through the drama of his plays. Alexander reveals that he was engineering his own consciousness through his plays and solving his life problems—while the tone, imagery, and richness of the plays all came out of the nexus of memories summoned up by the urgency of the problems he faced in them. By the way of O'Neill, this study moves toward a theory of the impulse that sets off a writer's creativity, and a theory of how that impulse acts to shape a work, not only in a dramatist like O'Neill but also in the case of writers in other mediums, and even of painters and composers.
The study begins with Desire Under the Elms because that play's plot was consolidated by a dream that opened up the transfixing grief that precipitated the play for O'Neill, and it ends with Days Without End when he had resolved his major emotional-philosophical struggle and created within himself the voice of his final great plays. Since the analysis brings to bear on the plays all of his conscious decisions, ideas, theories, as well as the life-and-death struggles motivating them, documenting even the final creative changes made during rehearsals, this book provides a definitive account of the nine plays analyzed in detail (Desire Under the Elms, Marco Millions, The Great God Brown, Lazarus Laughed, Strange Interlude, Dynamo, Mourning Becomes Electra, Ah, Wilderness!, and Days Without End, with additional analysis of plays written before and after.
Other Ways to Acquire
Buy from Amazon.com

Buy from an Independent Bookstore
Buy from Powell's Books
Buy from Barnes and Noble.com
Get a License to Reuse
Find in a Library
Get the
Kobo Edition
Get the
Kindle Edition
Get the
iBook Edition
Join
Sign up for e-mail notifications about new books and catalogs!
Related Subjects