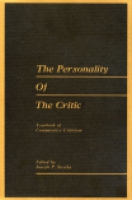 Yearbook of Comparative Criticism, Vol. 6
The Personality of the Critic
Copyright: 1973
Dimensions: 6 x 9
Page Count: 200 pages
Hardcover ISBN: 978-0-271-01120-2
---
The Personality of the Critic considers aspects of personal qualities exhibited in literary criticism in the sense of René Wellek's observation that criticism is necessarily "personal" even though it aims to "discover a structure of determination of the object itself." Two crucial questions are posed here. To what degree and in what way are the implications of a critic's personality inescapable in his striving for objectivity? And what are the alternatives to the questionable extremes, on one hand, of arbitrary or anarchic subjectivity and, on the other hand, of reduction of literary criticism to factual positivism? The answers to these questions, basic to literary criticism ranging from Kantian idealism to present-day phenomenological explanations, are explored in this volume along with the different viewpoints held on these questions in Western as well as in Eastern traditions. Some of the most important and essential problems of the foundations of literary criticism—problems that are often avoided—are brought forward in this volume.
Other Ways to Acquire
Buy from Amazon.com

Buy from an Independent Bookstore
Buy from Powell's Books
Find in a Library
Join
Sign up for e-mail notifications about new books and catalogs!
Related Subjects