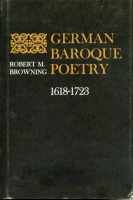 German Baroque Poetry, 1618–1723
The 17th Century or the Age of Baroque
Copyright: 1971
Dimensions: 5.5 x 8.5
Page Count: 260 pages
Hardcover ISBN: 978-0-271-01146-2
---
The first in a projected series of volumes tracing the development of the German lyric from circa 1620 to the 20th century. Professor Browning provides an excellent, well-organized survey of the general development of German poetry, as well as a thorough analysis of the specific schools and poets and their themes. This study focuses upon a critical and historical evaluation of the works of Opitz, Gryphius, Gunther, and their contemporaries as well as upon those of the 17th-century mystics, mannerists, and eroticists. Among these Professor Browning has selected those poets most likely to appeal to modern sensibilities, while maintaining the historical frame of reference necessary to the understanding of Baroque poetry.
Other Ways to Acquire
Buy from Amazon.com

Buy from an Independent Bookstore
Buy from Powell's Books
Buy from Barnes and Noble.com
Find in a Library
Join
Sign up for e-mail notifications about new books and catalogs!
Related Subjects