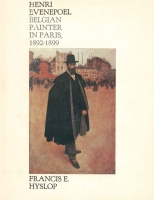 Henri Evenepoel
Belgian Painter in Paris, 1892–1899
Copyright: 1975
Dimensions: 7x9
Page Count: 156 pages
Illustrations: 52 color illustrations
Hardcover ISBN: 978-0-271-01191-2
---
The Parisian career of the Belgian artist Henri Evenepoel was part of that fabulous decade when the French capital was the center of artistic activity. A student of Gustave Moreau at the Ecole des Beaux -Arts, where he was a classmate and friend Matisse, Evenepoel pursued a wide range of activities including poster design, book illustration, printmaking and music sessions with his friends.
Throughout his career Evenepoel carried on an active correspondence with his father and friends in his native Brussels. His letters are filled with a wealth of information, including observations on life in the studios and comments on the exhibited works of Manet, Whistler, Redon, and Bonnard among others. His commentary is conveyed with a vividness that characterizes the era from a unique point of view. Professor Hyslop's study of Evenepoel's art is based on a reading of his correspondence and is illustrated with fifty-two of his works in various media, presenting a fascinating picture of the Paris art world of the nineties. This book introduces to a wider audience the work of a highly talented artist whose early death was a loss to 19th-century painting.
Other Ways to Acquire
Buy from Amazon.com

Buy from an Independent Bookstore
Buy from Powell's Books
Buy from Barnes and Noble.com
Find in a Library
Join
Sign up for e-mail notifications about new books and catalogs!
Related Subjects