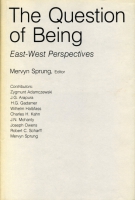 The Question of Being
Copyright: 1978
Dimensions: 6 x 9
Page Count: 240 pages
Hardcover ISBN: 978-0-271-01242-1
---
A pioneer work in comparative philosophy, this book approaches the question of being through a range of traditions: the Greek, the Christian, the post-Nietzschean European, the Hindu, and the Buddhist. The Question of Being therefore is both a fresh, cross-cultural approach to a vital issue and also an example of comparative philosophy in action.
The editor's introduction clarifies historically the concept of comparative philosophy from A. du Perron's journey to Persia in the late 18th century to the work of such modern thinkers as Deussen, Jung, and Aurobindo. Chapters by Owens and Kahn are concerned with the questions of being in Greek philosophy; Gadamer, Adamczewski, and Scharff relate Heidegger's though variously to Plato and the Greeks, the Upanishads, and the question of being. From the Eastern perspective: Halbfass examines the Indian realist school of Vaisesika with reference to Aristotle; Arapura writes of Advaita Vedanta thought of sat and brahman; Sprung discusses the importance of the Buddhist middle way in relation to the question of being and Mohanty contrasts Vedanta, Nyaya, and Buddhist theories about being.
Each chapter is historical and yet not merely so: the pervasive theme ensures treatment of the historical material in a contemporary philosophical context. Ultimately this book demonstrates that all philosophical problems reach beyond the bounds of any one tradition, being essentially human.
Every chapter contains a carefully selected bibliography.
Other Ways to Acquire
Buy from Amazon.com

Buy from an Independent Bookstore
Buy from Powell's Books
Buy from Barnes and Noble.com
Get a License to Reuse
Find in a Library
Join
Sign up for e-mail notifications about new books and catalogs!
Related Subjects