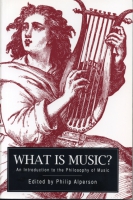 What is Music?
An Introduction to the Philosophy of Music
Copyright: 1994
Dimensions: 6.14 x 9.21
Page Count: 428 pages
Paperback ISBN: 978-0-271-01318-3
Paperback Edition: $37.95
"The essays in this volume address fundamental questions about the ontology and meaning of music, about composition, performance and song; they range over problems in the evaluation of music and of the place of music in history and culture, generally. The list of contributors is most impressive. Alperson begins his very comprehensive and clear introduction with a historical overview of philosophical reflections on music and argues for the necessity of a distinction between a normative aesthetics of music which takes as its focus music in the fine arts tradition and the philosophy of music, a larger inquiry, which takes as its object the entire range and significance of music as a human practice. What is Music? reflects this distinction."
"Whether or not one is confident about the state of contemporary musical practice, one cannot pick up this volume without being impressed by the depth and range of contemporary thinking about music. . . In addition, this anthology literally fills a void, and should be of great use to anyone who teaches a course in the philosophy of music."
Contributors to this volume are Philip Alperson, Francis Sparshott, Nicholas Wolterstorff, Edward T. Cone, Peter Kivy, Jenefer Robinson, Joseph Margolis, Arnold Berleant, Morris Grossman, Jerrold Levinson, Stephen Davies, Martin Donougho, Roger Scruton, and Rose Rosengard Subotnik.
Other Ways to Acquire
Buy from Amazon.com

Buy from an Independent Bookstore
Buy from Powell's Books
Buy from Barnes and Noble.com
Find in a Library
Join
Sign up for e-mail notifications about new books and catalogs!
Related Subjects