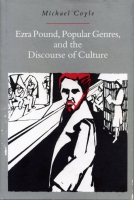 Ezra Pound, Popular Genres, and the Discourse of Culture
Publish Date: 5/10/1995
Dimensions: 6 x 9
Page Count: 268 pages
Illustrations: 3 illustrations
Hardcover ISBN: 978-0-271-01421-0
"This is a significant work of scholarship on one of the most important and problematic American poets of the 20th century. Much has been written on Pound's search for a 'profounder didacticism,' but I know of no book that goes about its task in just this way, and none from which I have learned so much about the generic assumptions that profoundly affect, and often restrict, the way we read difficult texts that escape ready generic classification."
In 1917, having begun the long poem that would prove his life's work, Ezra Pound affirmed that "the ultimate goal of scholarship is popularization." Few scholars subsequently have noticed this aim without finding it merely ironic or dismissing it as an early foible. Yet, as Michael Coyle demonstrates, Pound made similar assertions throughout his career, and his affirmation informs most of his work, including the Cantos.
Coyle begins by examining T. S. Eliot's editorial work on the collection he called, over Pound's objections, Literary Essays of Ezra Pound. He then discusses a wide variety of discursive and generic combinations, explaining how Pound was led to attempt them and how those combinations affected his broadest ambitions. By establishing that literature itself is a historically privileged grouping of genres, Coyle makes possible a new understanding of how and why Pound mixed literary and nonliterary, popular and polite genres.
Other Ways to Acquire
Buy from Amazon.com

Buy from an Independent Bookstore
Buy from Powell's Books
Buy from Barnes and Noble.com
Get a License to Reuse
Find in a Library
Join
Sign up for e-mail notifications about new books and catalogs!
Related Subjects