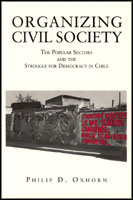 Organizing Civil Society
The Popular Sectors and the Struggle for Democracy in Chile
Copyright: 1995
Dimensions: 6 x 9
Page Count: 392 pages
Hardcover ISBN: 978-0-271-01435-7
Paperback ISBN: 978-0-271-01436-4
"Oxhorn's study is a model of scholarly work, a thoughtful and well-argued treatment of popular organizations that will challenge students of social movements, Chilean politics, and Latin American politics generally for years to come."
"The essays in this excellent volume examine the nature of Latin America's emerging democracies and market economies, with particular emphasis on Argentina, Brazil, Chile, and Mexico. . . . [A] very balanced and extremely thoughtful volume which enhances our understanding of post-authoritarian Latin America. The conceptual chapters at the start and finish are particularly insightful."
"A nicely crafted piece of work for college and university scholars of sociology and political dynamics."
"This is a solid and well researched book. It is particularly good on the relations between the popular movements and formal political organizations like political parties. It does not romanticize the struggle of the urban poor. It is a balanced assessment of their role in the complicated politics of the transition in Chile. It is also very readable. This is one of the best books so far in a growing literature on civil society in Chile."
"Philip Oxhorn's investigation of the popular classes in Chile makes a valuable contribution to the study of that country, of civil society, and of democratization. He places his case in an illuminating theoretical framework. . . . This book will be very useful, even inspiring, to students of both Latin America and social movements."
Owing to a poor economy and renewed political repression, Philip Oxhorn was one of only a handful of individuals able to conduct research in Chilean shantytowns in the 1980s. His book focuses on the emergence of popular organizations among the Chilean urban poor under the Pinochet regime and their place in the larger political system.
Oxhorn develops an original theoretical framework for understanding the emergence of popular organizations and their potential for forming a new social movement that can contribute to the democratization of civil society independently of a change in regime. He then offers a comprehensive account of popular sector organizational activity in Chile over the past twenty years, based on extensive interviews with shantytown organization leaders and political party elites, various primary documents, and participant-observer experiences carried out since 1984. He finds, paradoxically, that changes in the political system provided the necessary conditions under which a new social movement representing the urban poor could emerge, but simultaneously made such an emergence very difficult because of the problems that political parties faced after prolonged political repression.
Oxhorn's conclusions offer insights for understanding Chilean democracy today, as well as the nature of popular social movements among the urban poor and their relations with political parties in Latin America more generally.
Other Ways to Acquire
Buy from Amazon.com

Buy from an Independent Bookstore
Buy from Powell's Books
Buy from Barnes and Noble.com
Get a License to Reuse
Find in a Library
Get the
Google Play Edition
Join
Sign up for e-mail notifications about new books and catalogs!
Related Subjects
Also of Interest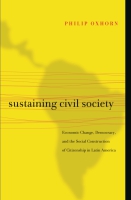 Economic Change, Democracy, and the Social Construction of Citizenship in Latin America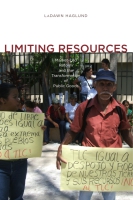 Market-Led Reform and the Transformation of Public Goods
This book is a part of the Association of American University Presses'
Books for Understanding: The Nonprofit Sector
book list, created to help all of us better understand the world we live in.
Knowledge, Not just information