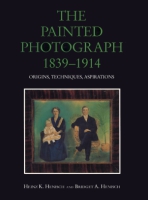 The Painted Photograph, 1839–1914
Origins, Techniques, Aspirations
Copyright: 1996
Dimensions: 8.5 x 11
Page Count: 252 pages
Illustrations: 58 color/370 b&w illustrations
Hardcover ISBN: 978-0-271-01507-1
Winner of the 1997 Rudolph and Hertha Benjamin Book Award from the American Photographic Historical Society
"This volume contributes a tremendous amount of knowledge to the history of the altered photograph."
"There is simply nothing else in the literature like The Painted Photograph. The authors, Heinz and Bridget Henisch, are, indisputably, two of the greatest and most admired of living photohistorians."
As photography grew more popular following its invention in 1839, its admirers did not understand how a medium that rendered shapes and textures in exquisite detail could fail to render them in realistic color. Also disappointing was the tendency of the captured images to fade over time. Photographers, ever eager to please their public, began "painting" their photographs with substances ranging from water colors and oil to chalk and crayon. Images were enlarged, enhanced, and framed, to simulate the splendors of the traditional portrait.
With its rich variety of illustrations in color and duotone, The Painted Photograph is the first comprehensive history of overpainting, from its origins to World War I. The 131 illustrations featured draw upon original nineteenth- and early twentieth-century sources, most from America and Britain, but also representing Japan, Turkey, Austria, Germany, Poland, Canada, Bohemia, India, Australia, Norway, Holland, and Russia.
In describing a multitude of early techniques, the authors survey overpainting on various types of photographs, including daguerreotypes, tintypes, and imprinted porcelain, milk glass, enamel, magic lantern slides, and textiles. Particularly fascinating are discussions of overpainted death portraits, most commonly those of children, and the origins of popular "picture postcards" featuring overpainted landscape scenes. The Henisches address also the eager acceptance of the painted photograph throughout the world, despite the hostility of the art-critical establishment.
The Painted Photograph will appeal to a wide public interested in photography, history, sociology, social anthropology, folk art, popular fashion, and antiques.
Other Ways to Acquire
Buy from Amazon.com

Buy from an Independent Bookstore
Buy from Powell's Books
Buy from Barnes and Noble.com
Get a License to Reuse
Find in a Library
Join
Sign up for e-mail notifications about new books and catalogs!
Related Subjects