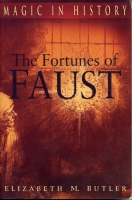 The Fortunes of Faust
Copyright: 1999
Dimensions: 6 x 9
Page Count: 384 pages
Series Name: Magic in History
Co-publisher: Sutton Publishing Ltd.
Paperback Edition: $30.95
---
This work is a powerful and astute examination of the connection between magic in literature and magic in history. It traces the evolution of the Faust tradition and its relationship to the practice of magic in European history. Written by one of the most distinguished scholars in the field of German literature, this book, first published in 1952, is a classic text. Butler follows the magic tradition of the magus—the priest-king—and its reformulation in the Christian world. In the process, the magus was transformed into a wicked sorcerer who comes to a bad end in this world and a worse one hereafter. This conception, which gained ground in the Middle Ages, received its most categorical statement in the Faust legend.
The celebrated pact between Faust and the devil was in fact an invention of Christian mythologists who had interpreted occult rituals in accordance with the Christian belief that magicians were the servants of Satan. Occultists replied by denying the pact with the devil and by associating Faust with ritual magic traditions. Butler draws on her detailed knowledge of literature, religion, and history to produce an authoritative synthesis that all those interested in the development of mythology will find indispensable.
Other Ways to Acquire
Buy from Amazon.com

Buy from an Independent Bookstore
Buy from Powell's Books
Buy from Barnes and Noble.com
Get a License to Reuse
Find in a Library
Join
Sign up for e-mail notifications about new books and catalogs!
Related Subjects