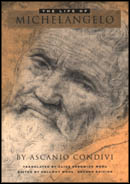 The Life of Michelangelo
Copyright: 1999
Dimensions: 7 x 10
Page Count: 176 pages
Illustrations: 53 b&w illustrations
Paperback ISBN: 978-0-271-01853-9
Paperback Edition: $33.95
---
Ascanio Condivi was a young pupil and assistant of Michelangelo's who gained the trust and confidence of the great artist. His biography of Michelangelo to a large extent is based on the artist's own words, tells the story of his life, his relationship with his patrons, his objectives as an artist, and his accomplishments, forming the basis of a biography that has been central to the study of Michelangelo for four centuries. The significance of Condivi's text was recognized early on. Within fifteen years of its publication in 1553, Vasari incorporated much of it to correct and revise his biography of Michelangelo in the second edition of his Lives of the Artists. But, although Vasari knew Michelangelo well, the sculptor never confided in him to the extent that he did in Condivi, making this the indispensable source for the life of Michelangelo.
First published in 1976, this translation is now available in paperback for the first time and includes a revised introduction based on new research, as well as an up-to-date bibliography and endnotes section.
Other Ways to Acquire
Buy from Amazon.com

Buy from an Independent Bookstore
Buy from Powell's Books
Buy from Barnes and Noble.com
Find in a Library
Join
Sign up for e-mail notifications about new books and catalogs!
Related Subjects