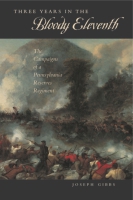 Three Years in the "Bloody Eleventh"
The Campaigns of a Pennsylvania Reserves Regiment
Publish Date: 1/28/2002
Dimensions: 6 x 9
Page Count: 400 pages
Illustrations: 33 illustrations/6 maps
Hardcover ISBN: 978-0-271-02166-9
Series Name: A Keystone Book®
"This history of the 11th Pennsylvania Reserves is a book of decidedly uncommon merits. Unlike many regimental histories, this one is marked by exhaustive research in the manuscript repositories, and Gibbs shows impressive skill in judiciously evaluating his sources. The resulting narrative affords an excellent balance between human and military content. Make no mistake about it: this is as fine a piece of research as you will find on a regimental-level unit.""
"Regimental histories are notoriously uneven in quality. Some are little more than "cut & paste" compilations of official sources and modern opinion, while others are truly gems of research and writing. Joseph Gibbs' Three Years in the Bloody Eleventh: The Campaigns of a Pennsylvania Reserves Regiment decidedly falls into the latter category. Making extensive use of manuscripts, original letters and newspaper accounts, as well as many records in the National Archives and other repositories, Gibbs has created a thoroughly researched and engagingly written story of a unit that saw incredibly heavy service."
Hailing from the Keystone State's rugged western counties, the Eleventh Pennsylvania Reserves was one of the Civil War's most heavily engaged units. Of more than 2,100 regiments raised by the North, it suffered the eighth highest number of battle deaths, earning it the gruesome sobriquet "Bloody Eleventh."
Three Years in the "Bloody Eleventh" tells the story of this often-overlooked element of the Army of the Potomac from before the war up through 1864. Drawing on letters, diaries, and archival documents, Joseph Gibbs writes of men such as Colonel Thomas Gallagher, who led his troops into battle smoking a cigar, and Samuel Jackson, who became the regiment's commander following Gallagher's promotion. He rediscovers the complexities of the men who commanded the brigades and divisions of which the Eleventh Reserves was a part—figures such as George Meade, John Reynolds, and Samuel Crawford.
While Gibbs writes about the officers, he never loses sight of the men in the ranks who marched into places such as Gaines' Mill, Miller's Cornfield at Antietam, and the Wheatfield at Gettysburg. Nor does he forget the homes, wives, and children they left behind in western Pennsylvania.
With its meticulous research and lucid prose, Three Years in the "Bloody Eleventh" provides both scholars and Civil War enthusiasts with an unprecedented look inside the trials and tribulations of one of the war's most battle-tested units.
Contents

List of Maps and Illustrations
List of Abbreviations
Introduction

1. A County Divided
2. Soldiers in Dead Earnest: Camp Wright to Camp Tennally
3. No More Bull Run Affairs: Great Falls, Dranesville, and the March to the Rappahannock
4. One of the Awfulest Battles the World Has Ever Witnessed: The Road to Gaines' Mill
5. Another Way to Take Richmond: Libby Prison, Belle Isle, and Glendale
6. Shot Down Like Sheep: Second Bull Run
7. Brave Comrades Falling: South Mountain and Antietam
8. Butchered Like So Many Animals: Fredericksburg
9. A Regiment Worth Its Weight in Gold: Gettysburg
10. Duty in the Context of the Cartridge Box: Falling Waters, Bristoe Station, and Mine Run
11. Winter 1863–1864
12. An Awful Sight of Men Cut Up: The Wilderness to Bethesda Church
13. A Remnant Returns: Muster-Out
14. "He Will Sit with a Small Mirror, and Look at His Reflection": An Epilogue to the Eleventh Pennsylvania Reserves

Notes
Bibliography
Index