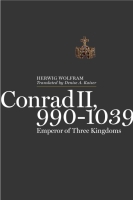 Conrad II, 990–1039
Emperor of Three Kingdoms
Publish Date: 11/22/2006
Dimensions: 6.125 x 9.25
Page Count: 400 pages
Illustrations: 18 illustrations/2 maps
Hardcover ISBN: 978-0-271-02738-8

"What Wolfram's biography ably demonstrates is how a new man with international vision could effectively govern an unruly empire of different races: German, Frisians, Slavs, Italians, and Burgundian French, while maintaining effective alliances with England, Denmark, France, and the papacy."
In this biography of the German emperor Conrad II (990–1039), internationally renowned medievalist Herwig Wolfram paints a fascinating portrait of a consummate politician set against the background of a Europe entering a new millennium. Conrad was the founder of the Salian Dynasty, under whose almost century-long dominion Germany became the most powerful state in Western Europe. He was also the first emperor of the High Middle Ages to rule the three kingdomsof Germany, Italy, and Burgundy.
Conrad's reign marked the triumph of the concept of "kingdom" and the zenith of what has been termed "imperial grandeur." He broadened the internal bases of imperial power and brought the full weight of his office to bear upon popes, clerics, and abbots in the pursuit of his ecclesiastical policies. His astounding ability to achieve his political goals was practically unparalleled amongthe emperors of the High Middle Ages.
Wolfram sees Conrad as a politician in almost the modern sense of the word, capable of exploiting the political, social, and economic structures of his day in order to exert his authority and marginalize his opponents. The result is an intimate portrait filled with fresh insights about Conrad and his consort, Gisela, who—as Wolfram demonstrates—played an influential advisory role with her husband. First published in 2000, this work demonstrates Wolfram's masterly command of the sources and the storyteller's craft, making Conrad II a compelling history of an emperor and his magnificent epoch.
Contents
List of Illustrations
Translators Note
Introduction to the English-Language Edition
Our Story Opens
Part One: From Worms to Basle
I Conrad II
II Gisela
III The Royal Election of Conrad II
IV Coronation, Assumption of Office, and Royal Progress
Part Two: Conflicts and Their Resolution
V Family Ties or Intrafamilial Disputes
VI Sitting Out Conflict: The Dispute over Gandersheim (1025-30/31)
VII Engaging in Conflict: The First Expedition to Italy (1026/27)
VIII The Emperor in Germany (1027): Court Diets, Synods, Confidential Discussions, and Compromises
IX Engaging in Conflict: The Second Expedition to Italy (1036-38)
Part Three: The Realm
X The Sovereign
XI The "People"
Part Four: Foreign Policy
XII Bilateral Diplomacy: The Imperial Embassy to Constantinople (1027-29)
XIII Conrads Policies Toward the Peoples to the Empires North and East
XIV Consolidation of Sovereignty over Burgundy (1032-38) and the Accord with France
Part Five: The Church
XV The Ecclesiastical Policy of Conrad II
XVI The Six Archbishoprics of Germany
XVII The Most Important Bishoprics North of the Alps
XVIII Open Conflicts with Bishops
XIX Conrads Monastic Policy
XX Issues of Canon Law
XXI Summary
Part Six: Epilogue
XXII Personality and Policies
XXIII The Emperors Life Draws to a Close: Utrecht, June 4, 1039
Appendix: Genealogy of the Early Salians
List of Abbreviations
Notes
Bibliography
Index
Join
Sign up for e-mail notifications about new books and catalogs!
Related Subjects