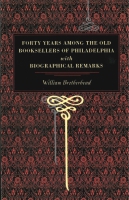 Forty Years Among the Old Booksellers of Philadelphia
With Biographical Remarks
Copyright: 1891
Dimensions: 5.5 x 8.5
Page Count: 128 pages
Paperback ISBN: 978-0-271-02753-1
Series Name: Metalmark
Paperback Edition: $25.95
This book is available open access. Read it here.
---
Published in 1891, Forty Years Among the Old Booksellers of Philadelphia contains the memoirs of William Brotherhead, a dealer in old and rare books. This remarkable volume offers valuable insights into literary society in nineteenth-century Philadelphia as well as the antiquarian book business. In addition to an overview of his own life in this changing profession, Brotherhead provides brief commentaries on more than thirty of his peers in the trade.
Forty Years Among the Old Booksellers of Philadelphia gives the reader a glimpse of the professional, religious, and ethnic demographics of nineteenth-century Philadelphia. Brotherhead also remarks on the prices and editions of several notable purchases and sales made in his shop over the years. He concludes by describing several famous collections, such as that of William Bradford, and depicts the burgeoning old-book trade in the United States as a key part of its relationship with Europe.
View a digital version of this book online at the Penn State University Libraries website.
Other Ways to Acquire
Buy from Amazon.com

Buy from an Independent Bookstore
Buy from Powell's Books
Buy from Barnes and Noble.com
Find in a Library
Join
Sign up for e-mail notifications about new books and catalogs!