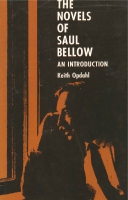 The Novels of Saul Bellow
Copyright: 1967
Dimensions: 5.5 x 8.5
Page Count: 208 pages
Hardcover ISBN: 978-0-271-73118-6
---
Most critics consider Saul Bellow one of America's leading active novelists, but few of them agree in their interpretation of his work. Much of this disagreement, says Opdahl, is the result of misunderstanding, but much of it also stems from an unresolved conflict in Bellow's imagination.
The novelist continually returns to the opposition between the willful and the loving, the skeptical and the believing. This conflict pervades Bellow's style, the structure of his novels, and the psychology of his protagonists; it is at once the unifying element of his fiction and the source of his difficulties.
Although "placing" Bellow on the current intellectual scene and discussing how this conflict reflects current intellectual and social issues, the author puts his main emphasis on the novels themselves. He studies the influence of this polarity on technique, explaining many of Bellow's shifts in form and substance, and analyzes how it shapes theme and plot. The novelist's ultimate purpose is religious: Religious issues and longing drive his heroes to rage, withdrawal, and comic intensity. Viewed in this perspective, the formal problems of the novels disappear or are explained by Bellow's difficulty in achieving, expressing, and sustaining his vision.
Offering perceptive interpretations of the novels as well as some of the shorter fiction, Opdahl presents a fresh view of Bellow's work and shows how he expresses the problems and doubts of our time.
Other Ways to Acquire
Buy from Amazon.com

Buy from an Independent Bookstore
Buy from Powell's Books
Buy from Barnes and Noble.com
Find in a Library
Join
Sign up for e-mail notifications about new books and catalogs!
Related Subjects