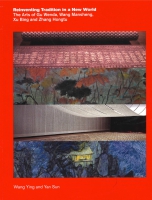 Reinventing Tradition in a New World
The Arts of Gu Wenda, Wang Mansheng, Xu Bing, and Zhang Hongtu
Copyright: 2005
Dimensions: 9 x 11.5
Page Count: 118 pages
Illustrations: 54 color/19 b&w illustrations
Paperback ISBN: 978-0-9759707-0-6
Distributed by the Penn State Press
for Gettysburg College
Paperback Edition: $24.95
---
This book provides a record of an important exhibition—Reinventing Tradition in the New World: The Arts of Gu Wenda, Wang Mansheng, Xu Bing, and Zhang Hongtu—held at Gettysburg College's Schmucker Art Gallery in late 2004.Each of the featured artists has a distinctive style and voice, and the diversity of the objects in the catalogue is great, ranging from large stone slabs engraved with poetry to a tiny glass bubble containing only air.
Despite these artistic divergences, the four artists are linked by cultural experiences. All grew up in socialist China and later immigrated to New York City. The artists also share a fascination with the power of language. In his or her own way, each artist is concerned with, in Katheryn M. Linduff's phrasing, "words and their significance, whether conventional and readable or fictional and indecipherable."
Essays by Wang Ying, Yan Sun, and Regan Golden-McNerney, interviews with each of the artists, and a glossary of Chinese terms supplement this fully illustrated catalogue.
Other Ways to Acquire
Buy from Amazon.com

Buy from an Independent Bookstore
Buy from Powell's Books
Buy from Barnes and Noble.com
Find in a Library
Join
Sign up for e-mail notifications about new books and catalogs!
Related Subjects