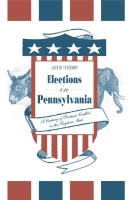 Elections in Pennsylvania
A Century of Partisan Conflict in the Keystone State
Copyright: 2005
Dimensions: 6 x 9
Page Count: 320 pages
Illustrations:
Hardcover ISBN: 978-0-271-02703-6
Paperback ISBN: 978-0-271-05861-0
Hardcover Edition: $77.95
Paperback Edition: $30.95
"Elections in Pennsylvania fills an important void in the literature on the political history of the state. In this single volume a reader can find a veritable treasure trove of statistical information on nearly every statewide elected office from 1900 to 2004. Treadway's analysis of the data reveals important heretofore undiscovered trends in the behavior of Pennsylvania's voters, and he offers thoughtful and incisive explanations of his findings. This is a significant work that deserves to be read by scholars, practitioners, and citizens of the Keystone State."
"There was—until now—no comprehensive history of Pennsylvania politics covering party development, party competition, election results, and voting attitudes in the twentieth century. Treadway remedies this deficiency with a well-researched, clearly written volume that will appeal to a general audience interested in Pennsylvania politics as well as to specialists who seek a one-stop place for data and information not conveniently found elsewhere. Not only does the author pull together material not readily available, but he also assesses it in a way that makes a significant contribution to Pennsylvania political history."
"The book, published by the Pennsylvania State University Press, is a gold mine for political buffs. Everything you ever wanted to know about every statewide election of the past 100 years is in the book, which contains dozens of tables, graphs and maps chronicling primary and general elections dating back to 1900. . . . The professor has produced the definitive history of Pennsylvania politics in the twentieth century."
"Hailed as the most comprehensive state election study ever undertaken, Elections in Pennsylvania provides data and analysis for more than 13,000 general elections and more than 6,000 primary elections in the state between 1900 and 1998, with a postscript examining in less detail the elections of 2000 and 2002."
"This will be a useful reference for political scientists and scholars."
"Elections in Pennsylvania is a well-researched, clearly written, and highly informational monograph that represents a significant contribution to the historiography of politics in Pennsylvania."
The most comprehensive state election study ever undertaken, Elections in Pennsylvania provides data and analysis for more than 13,000 general elections and more than 6,000 primary elections held in the state between 1900 and 1998, with a postscript examining in less detail the elections of 2000 and 2002. Included are all elections for president, governor, U.S. senators and representatives, statewide offices, and members of the General Assembly. The extensive period of time covered allows the author to provide an important historical perspective on electoral trends, distinguishing what are genuinely new developments in electoral dynamics and voting behavior in recent decades from what are continuations of patterns earlier in the century.
Contents
Tables and Figures
Introduction
1. Pennsylvania Then and Now
2. A Century of Electors
3. Legislative Elections
4. Legislative Careerism
5. Statewide Elections
6. Primary Elections
7. Patterns of Partisanship
8. In Perspective
9. Postscript
Appendix
References
Index
Other Ways to Acquire
Buy from Amazon.com

Buy from an Independent Bookstore
Buy from Powell's Books
Buy from Barnes and Noble.com
Find in a Library
Get the
Kobo Edition
Get the
Kindle Edition
Get the
iBook Edition
Join
Sign up for e-mail notifications about new books and catalogs!
Related Subjects
Also of Interest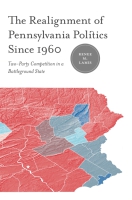 Two-Party Competition in a Battleground State
This book is a part of the Association of American University Presses'
Books for Understanding: Voting & Elections
book list, created to help all of us better understand the world we live in.
Knowledge, Not just information