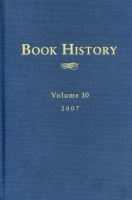 Book History, vol. 10
Copyright: 2006
Dimensions: 6 x 9
Page Count: 328 pages
Illustrations: 14 b&w illustrations/1 map
Hardcover ISBN: 978-0-271-02766-1
---
Book History is the annual journal of the Society for the History of Authorship, Reading and Publishing, Inc. (SHARP).
Book History is devoted to every aspect of the history of the book, broadly defined as the history of the creation, dissemination, and the reception of script and print. Book History publishes research on the social, economic, and cultural history of authorship, editing, printing, the book arts, publishing, the book trade, periodicals, newspapers, ephemera, copyright, censorship, literary agents, libraries, literary criticism, canon formation, literacy, literacy education, reading habits, and reader response.
Contents
1. The Secrets of Success: Microinventions and Bookselling in the Seventeenth-Century Netherlands
Laura Cruz
2. Thomas Lechford's Plain Dealing: Censorship and Cosmopolitan Print Culture in the English Atlantic
Jeffrey Glover
3. Lost Encyclopedias: Before and After the Enlightenment
Richard Yeo
4. Contesting the Page: The Author and the Illustrator in France, 1830–1848
Keri A. Berg
5. Composing the First Leaves of Grass: How Whitman Used His Early Notebooks
Matt Miller
6. "Sir, It Is an Outrage": George Bentley, Robert Black, and the Condition of the Mid-List Author in Victorian Britain
Solveig C. Robinson
7. Geneva v. Saint Petersburg: Two Concepts of Literary Property and the Material Lives of Books in Under Western Eyes
Shafquat Towheed
8. "What Would Jesus Do?": The Social Gospel and the Literary Marketplace
Erin A. Smith
9. Books Are Weapons: Wartime Responses to the Nazi Bookfires of 1933
Matthew C. Fishburn
10. Book History in Premodern China: The State of the Discipline I
Cynthia Brokaw
11. Modern Chinese Print and Publishing Culture: The State of the Discipline II
Christopher A. Reed
Contributors
Other Ways to Acquire
Buy from Amazon.com

Buy from an Independent Bookstore
Buy from Powell's Books
Buy from Barnes and Noble.com

Join
Sign up for e-mail notifications about new books and catalogs!
Related Subjects