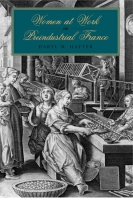 Women at Work in Preindustrial France
Copyright: 2007
Dimensions: 6 x 9
Page Count: 328 pages
Illustrations: 12 illustrations
Hardcover ISBN: 978-0-271-02969-6
Paperback ISBN: 978-0-271-05868-9
"This is the first full-length study of women in all-female and mixed guilds in Old Regime France. . . . Hafter contributes a great deal to our understanding of gender and the gendering of work, of the function of women's work in patriarchal society, of the agency women held in early modern France to control their work, of the ways this control brought women into the public sphere of the old regime, and of the ways ideas about gender and work changed over the eighteenth century and into the Revolution."
The subject of women as skilled workers in the eighteenth century is central to our understanding of the history of work and technology in the preindustrial age. While recent scholarship has dispelled the notion that women did not enter the workforce until the Industrial Revolution, debate continues as to the extent to which women actually participated in skilled work in the preceding decades. This book draws upon substantial archival research in Rouen, Lyon, and Paris to show that while the vast majority of working women in eighteenth-century France labored at unskilled, low-paying jobs, it was not at all unusual for women to be actively engaged in economic activities as workers, managers, and merchants. Some even developed vertically integrated wholesale and retail businesses, while others became indispensable to manufacturers through their technical skill. In fact, Hafter documents how certain women guild masters were able to exploit the legal system to achieve considerable economic independence, power, wealth, and legal parity with male masters. She also shows how gender politics complicated the day-to-day experience of these working women.
Contents
Acknowledgments
Introduction
1. The Political Economy of Guilds
2. The Uses of Gender in Economic Life
3. Guildwomen and Ouvrières
4. Turgot's Reforms and Their Aftermath
5. Paths to the Revolution
Conclusion
Bibliography
Index
Other Ways to Acquire
Buy from Amazon.com

Buy from an Independent Bookstore
Buy from Powell's Books
Buy from Barnes and Noble.com
Find in a Library
Get the
Google Play Edition
Join
Sign up for e-mail notifications about new books and catalogs!
Related Subjects