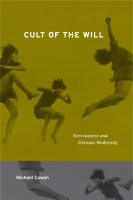 Cult of the Will
Nervousness and German Modernity
Copyright: 2008
Dimensions: 6 x 9
Page Count: 360 pages
Illustrations: 40 b&w illustrations
Hardcover ISBN: 978-0-271-03206-1
Paperback ISBN: 978-0-271-05873-3
Hardcover Edition: $77.95
Paperback Edition: $25.95
"Cowan's work presents a pathbreaking and truly meaningful discovery not only in the field of German studies. It belongs to the multiple merits of this book that it participates in the opening and development of a new discursive space within the Humanities. Over the past two decades, much of the historical research on the time between 1850 and 1950 concentrated on the 'discovery' of the human body—a historical discovery that took place above all against the hitherto unchallenged dominance of the Cartesian paradigm, and the control and repression of the Christian religious authorities. What Cowan presents is a tendency, during the same historical period, to 'master' the body and its fickleness (the 'nervousness' in Cowan's subtitle, a tendency that had a strong impact not only on certain contexts and environments in Western intellectual life but also undoubtedly in the formation of Fascist ideologies and practices. This book should become obligatory reading for all Germanists, not only Germanists working in the period of the late nineteenth and early twentieth centuries. The breadth of the epistemological and cultural dimension is well balanced by the astonishing variety of languages, literatures, and national cultural traditions that Cowan has managed to integrate into this amazing book."
"Cult of the Will is a superb study that covers familiar terrain with an entirely new approach. Cowan provides very fine examples of interdisciplinary interpretation. His book goes far beyond providing a history of 'nervousness.' It finds the implications of psychiatric theory in the internal structure of film, architecture, dance, and literature."
"Cowan deftly incorporates many contemporary fin-de-siècle examples to argue his central contention that attempts at control were widespread and deemed crucial for a rapidly transforming German society."
"This story has been often told, but Cowan has found a fascinating and altogether novel way of retelling it, through the lens of the turn-of-the-century preoccupation with overcoming the condition of will impairment, or abulia."
Cult of the Will is the first comprehensive study of modernity's preoccupation with willpower. From Nietzsche's "will to power" to the fantasy of a "triumph of the will" under Nazism, the will—its pathologies and potential cures—was a topic of urgent debates in European modernity. In this study, Michael Cowan examines the emergence of "will therapy" and its impact on arts and culture in Germany after 1900. The book's five chapters lead readers through cross sections of modern German cultural history, including not only literature and aesthetics but also medicine, economics, body culture, and pedagogy. Modernity's fixation on willpower helped prepare the way for fascism, but this trajectory is not Cowan's main concern. His focus falls rather on more widespread "technologies of the self" and their role in the effort to reimagine agency for a modern subject caught up in increasingly complex systemic networks.
Contents
List of Illustrations
Acknowledgments
Introduction: Reimagining the Will in the Age of Nervousness
1. Capitalism and Abulia
Entr'acte: Willpower in the Age of Enterprise
2. Healing the Will: Popular Medicine and the Emergence of Will Therapy
3. Training the Will: Gymnastics and Body Culture
4. Educating the Will: Reform Pedagogy and the School of Rhythm
5. Mapping the Will: European Nervousness and American Willpower.
Afterword: Notes on the Persistence of Will Therapy
Bibliography
Notes
Index