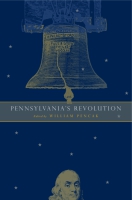 Pennsylvania's Revolution
Copyright: 2010
Dimensions: 6 x 9
Page Count: 408 pages
Illustrations: 1 b&w illustration/
Hardcover ISBN: 978-0-271-03579-6
Paperback ISBN: 978-0-271-03580-2
Hardcover Edition: $93.95
Paperback Edition: $51.95
---
Pennsylvania's Revolution embodies a new era of scholarship about the state's Revolutionary past. It breaks from a narrowly focused study of Philadelphia and the 1776 Constitution to evaluate Pennsylvania's internal conflicts during the Revolutionary period. Pronounced struggles between Pennsylvania's own citizen factions during the late eighteenth century are often cited by historians to demonstrate how this trend produced important social and political changes throughout the American colonies. By examining these experiences from multiple angles, this book reflects the overarching themes of the Revolution through a detailed study of Pennsylvania—the most radical of the thirteen colonies.
In this volume, William Pencak brings together fifteen essays that expand our knowledge of the complex changes that occurred in Pennsylvania during this tumultuous era. Acting as a companion to John Frantz and William Pencak's regionally focused 1998 volume Beyond Philadelphia, Pennsylvania's Revolution takes a topical approach to the discussion of the state's internal turmoil. Through the lens of political and military history along with social history, women's history, ethnohistory, Native American studies, urban history, cultural history, material culture, religious history, print culture, frontier/backcountry studies, and even film studies and theater history, this volume gives readers a glimpse of the diverse nature of contemporary and future historiography of Pennsylvania's Revolutionary period.
Contents
Preface
Introduction
William Pencak
1 "Falling Under the Domination Totally of Presbyterians": The Paxton Riots and the Coming of the Revolution in Pennsylvania
Nathan Kozuskanich
2 The Americanization of the Pennsylvania Almanac
Patrick Spero
3 German-Language Almanacs in Revolutionary Pennsylvania
Philipp Münch
4 Religion, the American Revolution, and the Pennsylvania Germans
John B. Frantz
5 Out of Many, One: Pennsylvania's Anglican Loyalist Clergy in the American Revolution
William Pencak
6 The Sons of the Old Chiefs: Surveying Identity and European-American Relationships in the "New Purchase" Territory (Centre County, Pennsylvania, 1769–1778)
Russell Spinney
7 Double Dishonor: Loyalists on the Middle Frontier
Douglas MacGregor
8 Esther DeBerdt Reed and Female Political Subjectivity in Revolutionary Pennsylvania: Identity, Agency, and Alienation in 1775
Owen S. Ireland
9 Redcoat Theater: Negotiating Identity in Occupied Philadelphia, 1777–1778
Meredith H. Lair
10 William Thompson and the Pennsylvania Riflemen
Robert J. Guy Jr.
11 Agency and Opportunity: Isaac Craig, the Craftsman Who Became a Gentleman
Melissah J. Pawlikowski
12 Constructing Community and the Diversity Dilemma: Ratification in Pennsylvania
Elizabeth Lewis Pardoe
13 The Decline of the Cheerful Taxpayer: Taxation in Pennsylvania, c. 1776–1815
Anthony M. Joseph
14 Two Winters of Discontent: A Comparative Look at the Continental Army's Encampments at Valley Forge and Jockey Hollow
James S. Bailey
15 Music, Mayhem, and Melodrama: The Portrayal of the American Revolution in Pennsylvania on Film
Karen Guenther
Appendix: Publications of Henry Miller
Translated by Jan Logemann
Notes by William Pencak
List of Contributors
Index