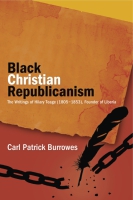 Black Christian Republicanism
The Writings of Hilary Teage (1805–1853), Founder of Liberia
Copyright: 2012
Dimensions: 6.125 x 9.25
Page Count: 328 pages
Illustrations: 6 illustrations/5 maps
Hardcover ISBN: 978-0-271-05374-5
---
This book explores the life and ideas of Hilary Teage, a Baptist pastor, merchant, statesman, and newspaper editor. A native of Virginia, Teage applied his many talents and considerable energies to building Liberia, the first republic in Africa. Although long ignored, he produced an engaging and prodigious range of poems, personality profiles, ethnographic articles, and policy papers.
Through both his actions and writings, Teage tirelessly promoted Christianity, rationalism, and republican government. His abiding obsession was achieving and sustaining black self-government as a means by which the long-degraded children of Africa could be animated, regenerated, and redeemed. This passion was derived from his exposure to degradation in the United States and reinforced by the horrors of the slave trade, which were still evident in West African societies in the early nineteenth century. Consequently, he became a major and early exponent of "black nationalism" several decades before its golden age.
Although republicanism, Protestantism, and black nationalism have constituted enduring features of African-American thought, the writings of Hilary Teage present one of the earliest intellectual integrations of these previously disparate elements.