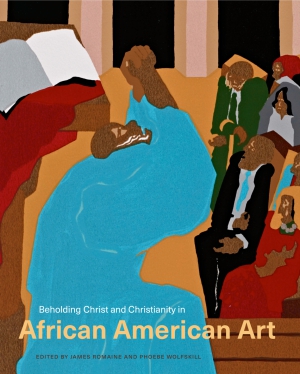 Beholding Christ and Christianity in African American Art
Edited by James Romaine and Phoebe Wolfskill
BUY
Beholding Christ and Christianity in African American Art
Edited by James Romaine and Phoebe Wolfskill
"An innovative collection. . . . The complex reality of African American religious art is revealed as a powerful witness of artistic and religious diversity. Highly recommended."
Description

Reviews

Bio

Table of Contents

Subjects
Many of the most celebrated African American artists have created works that visually manifest Christian motifs and themes, yet this component of the history of African American art is often subsumed by attention to racial identity. This volume constructs a vivid new history of African American art by exploring biblical and Christian subjects and themes in the work of such noted artists as Romare Bearden, Edmonia Lewis, Archibald Motley, Henry O. Tanner, and James VanDerZee.
Focusing on the work of artists who came to maturity between the Civil War and the Civil Rights Era, the contributors show how engaging with religious themes has served to express an array of racial, political, and socio-economic concerns for African American artists. Through a close analysis of aesthetic techniques and choices, each author considers race but does not assume it as a predominant factor. Instead, the contributors assess artworks' formal, iconographic, and thematic participation in the history of Christianity and the visual arts. In doing so, this collection refuses to lay a single claim on black religiosity, culture, or art, but rather explores its diversity and celebrates the complexity of African American visual expression.
In addition to the editors, the contributors are Kirsten Pai Buick, Julie Levin Caro, Jacqueline Francis, Caroline Goeser, Amy K. Hamlin, Kymberly N. Pinder, Richard J. Powell, Edward M. Puchner, Kristin Schwain, James Smalls, Carla Williams, and Elaine Y. Yau.
"An innovative collection. . . . The complex reality of African American religious art is revealed as a powerful witness of artistic and religious diversity. Highly recommended."
"Essential reading for anyone in the fields of Christianity and the arts or African American studies."
"A persistent alchemy of transforming the Christianity of African Americans into cultural politics has long complicated the important task of understanding the hold that religion has had in the life and art of American blacks. The contributors to this book have joined together to correct this, producing a fascinating and highly enjoyable volume that investigates art and religion together, grounding their efforts in the historical moments of important careers and cultural eras that have shaped an estimable legacy. The result sheds new light on impressive bodies of work, allowing us to see anew what was always there."
"This volume constructs a social history of African American culture's use of Christian texts, images, and symbols and offers readers concrete examples of just how rich and varied the uses of Christian discourse have been. Beholding Christ and Christianity in African American Art is a unique, remarkable, and fascinating text that makes an enormous contribution to the scholarly conversation on religious discourse."
James Romaine is Associate Professor of Art History at Lander University in Greenwood, South Carolina. He is president and co-founder of the Association of Scholars of Christianity in the History of Art. His most recent book is Art as Spiritual Perception.
Phoebe Wolfskill is Assistant Professor in the Department of African American and African Diaspora Studies at Indiana University, Bloomington, and author of Archibald Motley Jr. and Racial Reinvention.
Contents
List of Illustrations
Introduction: Hidden in Plain Sight—Christ and Christianity in African American Art James Romaine and Phoebe Wolfskill
1. Propaganda Fide: Mary Edmonia Lewis and the Catholic Church Kirsten Pai Buick
2. Reading Tanner/Recognizing Jesus James Romaine
3. The Blare of God's Trombones: Modernizing Biblical Narratives in the Work of Aaron Douglas Caroline Goeser
4. The Sight of Black Folks: Malvin Gray Johnson's Spiritual Paintings in Interwar America Jacqueline Francis
5. Christianity and Class in the Work of Archibald J. Motley Jr. Phoebe Wolfskill
6. The Aesthetics of Transcendence: William H. Johnson's Jesus and the Three Marys Amy K. Hamlin
7. Sculpting the Spirit and the Flesh: The Religious Works of James Richmond Barthé James Smalls
8. Allan Rohan Crite's (Re)Visioning of the Spirituals Julie Levin Caro
9. Sister Gertrude Morgan and the Materials of Visionary Art Elaine Y. Yau
10. "A Tried Stone": Community, Conversion, and Christ in the Sculpture of William Edmondson Edward M. Puchner
11. Biblical and Spiritual Motifs in the Art of Horace Pippin Richard J. Powell
12. Assimilation and Aspiration: The Urbanity of Faith in James VanDerZee's Representations of Religion Carla Williams
13. Deep Waters: Rebirth, Transcendence, and Abstraction in Romare Bearden's Passion of Christ Kymberly N. Pinder
14. Creating History, Establishing a Canon: Jacob Lawrence's The First Book of Moses, Called Genesis Kristin Schwain
Selected Bibliography
List of Contributors
Index
Mailing List
Subscribe to our mailing list and be notified about new titles, journals and catalogs.