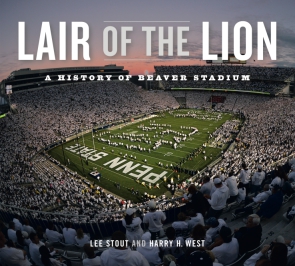 Lair of the Lion
A History of Beaver Stadium
Lee Stout and Harry H. West
BUY
Lair of the Lion
A History of Beaver Stadium
Lee Stout and Harry H. West
"Lair of the Lion is the seminal work on the beginnings of Beaver Stadium, on the west side of campus, to its modern-day state on the opposite end."
Description

Reviews

Bio

Table of Contents

Subjects
Football is an unmistakable part of the culture of Penn State, though the experience of a Nittany Lions home game—from the crowds and tailgates to the spectacle of the game itself—has changed significantly over the years. This richly illustrated and researched book tells the story of the structure that has evolved along with the university's celebrated football program: the iconic Beaver Stadium.
Historian Lee Stout and engineering professor Harry H. West show how Beaver Stadium came to be, including a look at its predecessors, "Old" Beaver Field, built in 1893 on a site centrally located northeast of Old Main, and "New" Beaver Field, built on the northwest corner of campus in 1909. Stout and West explore the engineering and construction challenges of the stadium and athletic fields and reveal the importance of these facilities to the history of Penn State and its cherished traditions.
Packed with archival photos and fascinating stories, Lair of the Lion is a celebration of the ways in which Penn State fans, students, and athletes have experienced home games from the 1880s to the present day, and of the monumental structure that the Lions now call home.
"Lair of the Lion is the seminal work on the beginnings of Beaver Stadium, on the west side of campus, to its modern-day state on the opposite end."
"Stout and West's narrative offers insights into the Penn State character that extend far beyond the gridiron. They present a wonderfully entertaining story that's likely to interest even those University alumni and friends who have never attended a football game at Beaver Stadium."
"One could not find better, more authoritative authors to collaborate on [this] book than Lee Stout and Harry West."
Lee Stout is Librarian Emeritus at the Penn State University Libraries. He is the author of Ice Cream U: The Story of the Nation's Most Successful Collegiate Creamery and A Matter of Simple Justice: The Untold Story of Barbara Hackman Franklin and a Few Good Women, also available from Penn State University Press.
Harry H. West is Professor Emeritus of Civil Engineering at Penn State University, co-recipient of the 1970 Moissieff Award of the American Society of Civil Engineers, and recipient of the 1996 Teaching Fellow Award of the Penn State Alumni Association.
Contents
Acknowledgments
Introduction
1 Old Beaver Field
2 "Wish-Wack, Pink and Black, Go State Go"
3 New Beaver Field: The Wooden Era
4 New Beaver Field: The Steel Era
5 Football Games at New Beaver Field
6 Beaver Field Becomes Beaver Stadium
7 "The Big Lift"
8 The North-End Upper Deck
9 Beaver Stadium Becomes a Building
10 A New Era: Heritage Recognized
11 Continuity and Change on Game Day
12 Beaver Stadium's Importance and Future
Afterword: The Power of Place
Notes
Selected Bibliography
Index
Credits
Mailing List
Subscribe to our mailing list and be notified about new titles, journals and catalogs.