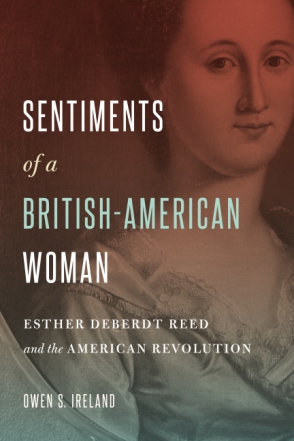 Sentiments of a British-American Woman
Esther DeBerdt Reed and the American Revolution
Owen S. Ireland
BUY
Sentiments of a British-American Woman
Esther DeBerdt Reed and the American Revolution
Owen S. Ireland
"In a comprehensive and moving study, Owen Ireland brings to light the important but little-known story of Esther DeBerdt Reed, one of the most powerful female figures to emerge during the American Revolution. Ireland chronicles the grand love affair between Reed, a privileged Londoner, and her husband, an American lawyer and patriot, and also explores how Reed became the leading organizer of the Philadelphia Ladies Association, a group that provided critical financial assistance to Washington's troops. Improbable, inspirational, and instructive, Reed's life is a tale of female self-invention and of love played out in the shadows of the Revolutionary crisis."
Description

Reviews

Bio

Table of Contents

Subjects
At the time of her death in 1780, British-born Esther DeBerdt Reed—a name few know today—was one of the most politically important women in Revolutionary America. Her treatise "The Sentiments of an American Woman" articulated the aspirations of female patriots, and the Ladies Association of Philadelphia, which she founded, taught generations of women how to translate their political responsibilities into action. DeBerdt Reed's social connections and political sophistication helped transform her husband, Joseph Reed, from a military leader into the president of the Supreme Executive Council of Pennsylvania, a position analogous to the modern office of governor.
DeBerdt Reed's life yields remarkable insight into the scope of women's political influence in an age ruled by the strict social norms structured by religion and motherhood. The story of her courtship, marriage, and political career sheds light both on the private and political lives of women during the Revolution and on how society, religion, and gender interacted as a new nation struggled to build its own identity.
Engaging, comprehensive, and built on primary source material that allows DeBerdt Reed's own voice to shine, Owen Ireland's expertly researched biography rightly places her in a prominent position in the pantheon of our founders, both female and male.
"In a comprehensive and moving study, Owen Ireland brings to light the important but little-known story of Esther DeBerdt Reed, one of the most powerful female figures to emerge during the American Revolution. Ireland chronicles the grand love affair between Reed, a privileged Londoner, and her husband, an American lawyer and patriot, and also explores how Reed became the leading organizer of the Philadelphia Ladies Association, a group that provided critical financial assistance to Washington's troops. Improbable, inspirational, and instructive, Reed's life is a tale of female self-invention and of love played out in the shadows of the Revolutionary crisis."
"Historian Owen Ireland's gracefully written full-fledged biography of Esther DeBerdt Reed, a British-born American patriot, is a welcome and necessary addition to Revolutionary Era history. Based on deep research, Ireland makes a compelling case for understanding the rich but tragically short life of Esther DeBerdt Reed, an important female politician and American founder."
"This exciting book is a significant contribution not just to our understanding of revolutionary-era America but also to our understanding of global history itself. Esther Reed is a fascinating protagonist, and her transatlantic life—and especially her intercontinental courtship with her eventual husband, Joseph Reed—sheds light on the complex ties that connected the North American colonies to England and the wider world."
"Sentiments of a British-American Woman is an exciting story of how Esther DeBerdt Reed negotiated the challenges of immigration, marriage, and Revolutionary politics. As an eminent political historian, Owen S. Ireland marshals his command of Pennsylvania politics and women's history and, in quoting her substantial correspondence, allows DeBerdt Reed to speak for herself."
"Despite Reed's importance, this is the first full biography of this pioneer politician. It is, in Ireland's telling, an engaging tale that mingles the drama and romance expected of a novel with the politics, finance, and suffering of Reed and her husband during the struggle for American independence."
Owen S. Ireland is Distinguished Professor of History at The College at Brockport, State University of New York, and the author of Religion, Ethnicity, and Politics: Ratifying the Constitution in Pennsylvania, also published by Penn State University Press.
Contents
Acknowledgements
Introduction
Chapter One: Esther: Imprudent and Impatient Love
Chapter Two: Joseph: Love and Calculation
Chapter Three: A Willful Girl Matures
Chapter Four: Responsibilities and Schemes
Chapter Five: Politics: Old World Patronage
Chapter Six: Love Defeats Prudence
Chapter Seven: Exiled Where Women "stooped like country girls."
Chapter Eight: A New Political Identity: "They" becomes "We"
Chapter Nine: "Unleash the Dogs of War"
Chapter Ten: Politics: New World Democracy
Chapter Eleven: America's Female Politician
Chapter Twelve: Triumph and Tragedy
Bibliographical Essay
Notes
Index
Mailing List
Subscribe to our mailing list and be notified about new titles, journals and catalogs.