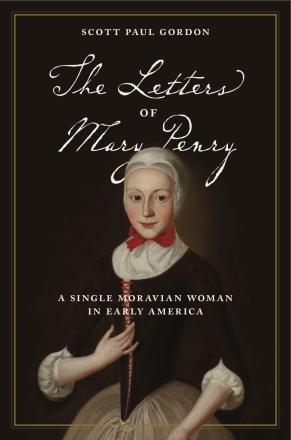 The Letters of Mary Penry
A Single Moravian Woman in Early America
Edited by Scott Paul Gordon
BUY
The Letters of Mary Penry
A Single Moravian Woman in Early America
Edited by Scott Paul Gordon
"The letters of Mary Penry provide a unique and insightful perspective on early American history. Scott Gordon has rescued this remarkable female author from obscurity in a volume that should expand the canon of American literature."
Description

Reviews

Bio

Subjects
In The Letters of Mary Penry, Scott Paul Gordon provides unprecedented access to the intimate world of a Moravian single sister. This vast collection of letters—compiled, transcribed, and annotated by Gordon—introduces readers to an unmarried woman who worked, worshiped, and wrote about her experience living in Moravian religious communities at the time of the American Revolution and early republic.
Penry, a Welsh immigrant and a convert to the Moravian faith, was well connected in both the international Moravian community and the state of Pennsylvania. She counted among her acquaintances Elizabeth Sandwith Drinker and Hannah Callender Sansom, two American women whose writings have also been preserved, in addition to members of some of the most prominent families in Philadelphia, such as the Shippens, the Franklins, and the Rushes. This collection brings together more than seventy of Penry's letters, few of which have been previously published. Gordon's introduction provides a useful context for understanding the letters and the unique woman who wrote them.
This collection of Penry's letters broadens perspectives on early America and the eighteenth-century Moravian Church by providing a sustained look at the spiritual and social life of a single woman at a time when singleness was extraordinarily rare. It also makes an important contribution to the recovery of women's voices in early America, amplifying views on politics, religion, and social networks from a time when few women's perspectives on these subjects have been preserved.
"The letters of Mary Penry provide a unique and insightful perspective on early American history. Scott Gordon has rescued this remarkable female author from obscurity in a volume that should expand the canon of American literature."
"A thoroughly astonishing record of a woman's life, work, and thought in the age of the American Revolution. Gordon's careful editing, detailed notes, and engaging introduction bring Mary Penry to life and make it easy to slip into a long-past world. This source adds an essential work to the corpus of women's writings from the eighteenth century. It will be prized by scholars and readers alike for a long time to come."
"Mary Penry's letters as edited and introduced by Scott Paul Gordon offer a valuable glimpse into one woman's experiences in early America, but this particular woman's letters illuminate an unexpected and unique range of perspectives on eighteenth-century life. An unmarried woman living in the women's community of a Moravian choir house, Penry engaged for more than half a century with forms of life writing, leaving a fascinating epistolary record of her experiences and beliefs."
Scott Paul Gordon is Professor of English and Andrew W. Mellon Chair at Lehigh University.
Mailing List
Subscribe to our mailing list and be notified about new titles, journals and catalogs.