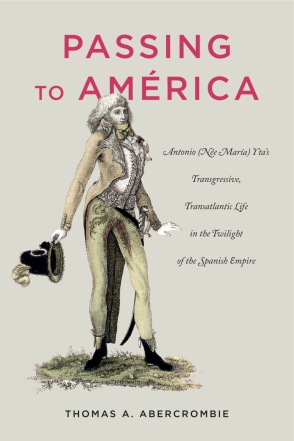 Passing to América
Antonio (Née María) Yta's Transgressive, Transatlantic Life in the Twilight of the Spanish Empire
Thomas A. Abercrombie
COMING IN OCTOBER
Passing to América
Antonio (Née María) Yta's Transgressive, Transatlantic Life in the Twilight of the Spanish Empire
Thomas A. Abercrombie
"Abercrombie's thrilling account of the life of Don Antonio Yta follows the surprising twists and turns of a nun in a Spanish convent turned male bishop's page, governor's servant, and town administrator in Italy and the Americas. With depth and meticulousness, Passing to América reveals the possibilities and limitations that race and gender afforded individuals who, like Don Antonio, sought to pass as a gender different from the one assigned to them at birth."
Description

Reviews

Bio

Subjects
In 1803 in the colonial South American city of La Plata, Doña Martina Vilvado y Balverde presented herself to church and crown officials to denounce her husband of more than four years, Don Antonio Yta, as a "woman in disguise." Forced to submit to a medical inspection that revealed a woman's body, Don Antonio confessed to having been María Yta, but continued to assert his maleness and claimed to have a functional "member" that appeared, he said, when necessary.
Passing to América is at once a historical biography and an in-depth examination of the sex/gender complex in an era before "gender" had been divorced from "sex." The book presents readers with the original court docket, including Don Antonio's extended confession, in which he tells his life story, and the equally extraordinary biographical sketch offered by Felipa Ybañez of her "son María," both in English translation and the original Spanish. Thomas A. Abercrombie's analysis not only grapples with how to understand the sex/gender system within the Spanish Atlantic empire at the turn of the nineteenth century but also explores what Antonio/María and contemporaries can teach us about the complexities of the relationship between sex and gender today.
Passing to América brings to light a previously obscure case of gender transgression and puts Don Antonio's life into its social and historical context in order to explore the meaning of "trans" identity in Spain and its American colonies. This accessible and intriguing study provides new insight into historical and contemporary gender construction that will interest students and scholars of gender studies and colonial Spanish literature and history.
"Abercrombie's thrilling account of the life of Don Antonio Yta follows the surprising twists and turns of a nun in a Spanish convent turned male bishop's page, governor's servant, and town administrator in Italy and the Americas. With depth and meticulousness, Passing to América reveals the possibilities and limitations that race and gender afforded individuals who, like Don Antonio, sought to pass as a gender different from the one assigned to them at birth."
"Approaching the story of Don Antonio Yta, and the María he was before, is bound to pull us into a thicket of contemporary debates about gender and sexual identities. Thomas Abercrombie is a skillful guide, letting the reader get tangled where necessary by including primary sources and playing in ambiguities but also pointing to ways out. Particularly impressive is how Abercrombie places gender and sexual practices within a context of multiple other factors that impacted the lives of Don Antonio and María, from Spanish peninsular class status to immigrant experiences in the New World during the apogee of an Enlightenment science of self and other."
"Abercrombie relays the story of Antonio (née María) Yta's movements from Spain to Bolivia, and from seeming woman to apparent man, with remarkable detail and insight gleaned from the twenty years of research whose fruits are so evident in these pages. This book makes a strong contribution to transgender studies historical scholarship, and it supplies the best case study of the complexities of colonial gender in the Americas since the fabled tale of the Lieutenant Nun, Antonio (née Catalina) de Erauso."
Thomas A. Abercrombie is Associate Professor of Anthropology and Latin American and Caribbean Studies at New York University.