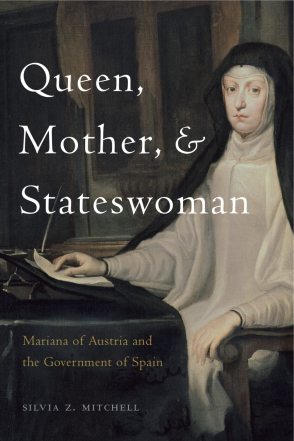 Queen, Mother, and Stateswoman
Mariana of Austria and the Government of Spain
Silvia Z. Mitchell
COMING IN MAY
Queen, Mother, and Stateswoman
Mariana of Austria and the Government of Spain
Silvia Z. Mitchell
"An imaginative and wholly original account of a ruler who is regarded as the personification of Spain's seventeenth-century decline as an imperial power. Mitchell revises the traditional view of Mariana as the hapless pawn of her confessors and male courtiers and shows her to be a fiercely independent woman capable of decisive action in domestic and foreign affairs as well as a ruler who successfully managed to defend the interests and reputation of Spain's Habsburg monarchy. This book is a valuable contribution to the growing body of literature on early modern queenship."
Description

Reviews

Bio

Subjects
Queen, Mother, and Stateswoman
is an in-depth study of Mariana of Austria's ten-year regency (1665–1675) of the global Spanish Empire and her subsequent role as queen mother. In Silvia Z. Mitchell's revisionist account, Mariana emerges as a towering figure at court and on the international stage, and her key collaborators—the secretaries, ministers, and diplomats who have previously been ignored or undervalued—take their rightful place in history.
When Philip IV of Spain died in 1665, his heir, Carlos II, was three. As the threat of dynastic crisis loomed, decades of enormous military commitments had left Spain a virtually bankrupt state with vulnerable frontiers and a depleted army. Drawing from previously unmined primary sources, including Council of State deliberations, diplomatic correspondence, Mariana's and Carlos's letters, royal household papers, manuscripts, and legal documents, Mitchell describes how Mariana led the monarchy out of danger and helped redefine the military and diplomatic blocs of Europe in Spain's favor. She follows Mariana's exile from court and recounts how the dowager queen subsequently used her extensive connections and diplomatic experience to move the negotiations for her son's marriage forward, effectively exploiting the process to regain her position.
A new narrative of the Spanish Habsburg monarchy in the later seventeenth century, this volume advances our knowledge of women's legitimate political entitlement in the early modern period. It will be welcomed by scholars and students of queenship, women's studies, and early modern Spain.
"An imaginative and wholly original account of a ruler who is regarded as the personification of Spain's seventeenth-century decline as an imperial power. Mitchell revises the traditional view of Mariana as the hapless pawn of her confessors and male courtiers and shows her to be a fiercely independent woman capable of decisive action in domestic and foreign affairs as well as a ruler who successfully managed to defend the interests and reputation of Spain's Habsburg monarchy. This book is a valuable contribution to the growing body of literature on early modern queenship."
"Mitchell mines court archives and state records to demonstrate that Mariana of Austria had clear and consistent diplomatic and military strategies as queen regent, and he establishes her as part of a long tradition of strong female leadership in early modern European courts. This work fills a significant gap in our understanding of the late seventeenth-century Spanish court and supports recent arguments in favor of Spanish resilience rather than decline under the last Habsburgs.​"
"Silvia Mitchell's work is an important revisionist study of the regency of Mariana of Austria, mother of the last Spanish Habsburg. Based upon wide-ranging and detailed research, it has considerable implications for a much more positive understanding than has prevailed hitherto not only of the last decades of Habsburg rule in Spain but also, more broadly, of female political agency in early modern Europe."
"Countering the common perception of Mariana de Austria as weak, too young to govern, and easily manipulated, Silvia Mitchell demonstrates that Mariana was a forceful, effective regent during the period of her son's minority (1665-75). Grounded solidly in fresh archival research, Queen, Mother, and Stateswoman will advance the historical debate on Mariana, on seventeenth-century royal favorites, and on the court of Charles II of Spain."
Silvia Z. Mitchell is Assistant Professor of Early Modern European History at Purdue University.