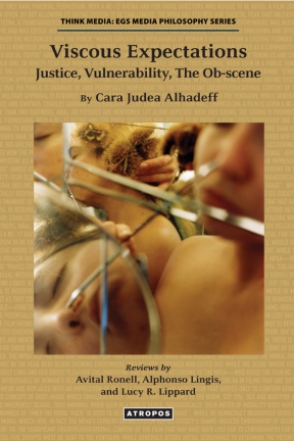 Viscous Expectations
Justice, Vulnerability, The Ob-scene
Cara Judea Alhadeff
GET
Viscous Expectations
Justice, Vulnerability, The Ob-scene
Cara Judea Alhadeff
"With enormous energy and theoretical appetite, Cara Judea Alhadeff exposes her thought to the most difficult and most radical contemporary thinkers, contesting them with her own experience and insights. Her thought is unlimitedly ambitious and vulnerable. It issues in making vulnerability central—rather than individual autonomy or collective enterprise, rather than the subject of rights or the construction of institutions—and opens a new perspective on justice and democracy."
Unlocked

Description

Reviews

Bio

Subjects
An Open Access edition of Viscous Expectations is available through PSU Press Unlocked. To access this free electronic edition click here. Print editions are also available.
Orchestrating text and color photography through the lens of vulnerability, Cara Judea Alhadeff explores embodied democracy as the intersection of technology, aesthetics, eroticism, and ethnicity. She demonstrates the potential for social resistance and a rhizomatic reconceptualization of community rooted in difference—and a socio-erotic ethic of ambiguity that disrupts codified normalcy. Within the context of global corporatocracy, international development, the pharma-addictive health industry, petroleum-parenting, and arts-as-entertainment, she scrutinizes the emancipatory possibilities of social ecology, post-humanism, and the pedagogy of trauma. Confronting hegemonies of convenience culture, she lays the groundwork for a reticulated citizenry that requires theory-becoming-practice. Alhadeff's primary text and footnotes become parallel narratives, reflecting their intermedial content. As she integrates the personal and theoretical with the visual and textual, she mobilizes a comprehensive exploration of our bodies as contingent modes of relation. She cites philosophers and artists from Spinoza to Audre Lorde, Louise Bourgeois, and Édouard Glissant, who have explored collaborative and uncanny conditions of becoming vulnerable. In the context of multiple constituencies, creativity becomes a political imperative in which cognitive and somatic risk-taking gives voice to social justice.
"With enormous energy and theoretical appetite, Cara Judea Alhadeff exposes her thought to the most difficult and most radical contemporary thinkers, contesting them with her own experience and insights. Her thought is unlimitedly ambitious and vulnerable. It issues in making vulnerability central—rather than individual autonomy or collective enterprise, rather than the subject of rights or the construction of institutions—and opens a new perspective on justice and democracy."
"The pride of the European Graduate School, Cara Judea Alhadeff breaks new ground with her first book. Devoted to a radical engagement with embodied democracy, the work offers wide-ranging insight into precarious textual adventure and the artistic intercept. A bold and remarkable boundary crossing on a number of crucial levels."
"In Viscous Expectations, Cara Judea Alhadeff offers an innovative hybrid of complex theoretical discourse, performative photography, and timely political analysis. Her treatment of vulnerability is particularly provocative, as are her analyses of the collision of the hyperphysical with the hypervirtual. Alhadeff opens up new ways of thinking about contemporary life and sexuality, while delving deep into myriad subjects. Everything is embodied, endowed with a sensual visual or verbal presence—from dreams, to pregnancy and motherhood, to Occupy Wall Street. Alhadeff's work is a fascinating fusion of art and scholarship. Intricate theoretical text is paralleled by unexpected photographic imagery—sensuous, enigmatic, and layered. The book extends into new and fluid realms the still-valid idea that 'the personal is political.' Intellectually rigorous and aesthetically daring, the book is hard work, and worth it."
"A radical provocation envisioning a 'collaborative emancipatory project' based on a 'dialectic of the unresolvable' and the 'becoming impossible,' Cara Judea Alhadeff's Viscous Expectations: Justice, Vulnerability, The Ob-scene presents the work of an extraordinary individual whose fascinating autobiography—an American Spanish/Turkish Jew—breathes a renewed sense of urgency into a lived philosophy, 'perceiving the world through possibility rather than prescription.' Intimating an ae(s)thetics of contestation, intercession, resistance, and outrage, Alhadeff's project reinvigorates the scandal that is philosophy."
"Viscous Expectations: Justice, Vulnerability, The Ob-scene, by Cara Judea Alhadeff, is exactly what an 'art book' should be. It offers a unique and singular worldview, posing more questions than answers, but advancing lines of thought and arguments into uncomfortable territory in the form of photos and text to create a further understanding of ourselves. The first impressions of Alhadeff's work always offer uncertain footing, causing her audience to find their own balance of previously conceived notions and context; they are challenged with the new information offered in Alhadeff's sensual, beautiful, and often disturbing pictures. This is important work by an artist who is unflinching with her camera and pen."
Cara Judea Alhadeff is a writer and visual artist who engages embodied theory. Learn more about her work at carajudea.com
Mailing List
Subscribe to our mailing list and be notified about new titles, journals and catalogs.