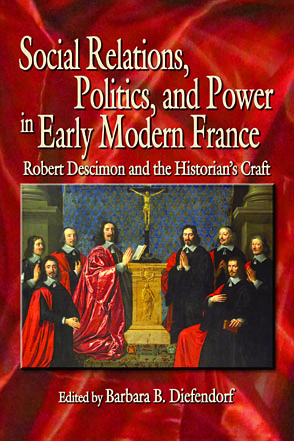 Social Relations, Politics, and Power in Early Modern France
Robert Descimon and the Historian's Craft
Edited by Barbara B. Diefendorf, Sara Beam, Philip Benedict, Hilary J. Bernstein, Michael P. Breen, James B. Collins, Mark Critchlow, Jonathan Dewald, Mark Greengrass, Mack P. Holt, Marco Penzi, and Robert A. Schneider
BUY
Social Relations, Politics, and Power in Early Modern France
Robert Descimon and the Historian's Craft
Edited by Barbara B. Diefendorf, Sara Beam, Philip Benedict, Hilary J. Bernstein, Michael P. Breen, James B. Collins, Mark Critchlow, Jonathan Dewald, Mark Greengrass, Mack P. Holt, Marco Penzi, and Robert A. Schneider
"Honoring the path-breaking social and political history of Robert Descimon, these essays describe and themselves display the innovative methods and insight that mark his scholarship on early modern France. Following Descimon's lead into archives, manuscripts, and marginalia, the authors add to our understanding of the construction of the absolute state and the networks and loyalties of the elites on which it depended. Social Relations, Politics, and Power is also a testimony to the networks of friendship that sustain historians in their work on both sides of the Atlantic. A book full of riches!"
Description

Reviews

Bio

Table of Contents
The study of history is a fundamentally sociable practice, with the exchange of ideas taking place in writing, over the seminar table, and often in informal discussions over food. These essays grew out of a web of sociability centered around French historian Robert Descimon, and focus on the nexus of social relations, politics, and power in France as it moved from the age of religious wars into the age of absolutism. Using a wide variety of historical approaches and methods, these essays offer new insights into the evolving role of early modern elites and the social, familial, and cultural influences that shaped their values and priorities.
"Honoring the path-breaking social and political history of Robert Descimon, these essays describe and themselves display the innovative methods and insight that mark his scholarship on early modern France. Following Descimon's lead into archives, manuscripts, and marginalia, the authors add to our understanding of the construction of the absolute state and the networks and loyalties of the elites on which it depended. Social Relations, Politics, and Power is also a testimony to the networks of friendship that sustain historians in their work on both sides of the Atlantic. A book full of riches!"
"The selections in this volume build on Robert Descimon's critical work on the workings and nature of the early modern state by focusing on the complexities underlying actions and contentions among French elites during the crucial transition to Bourbon rule."
Barbara B. Diefendorf (PhD, University of California–­Berkeley) is professor of history emerita at Boston University. Her books include Paris City Councillors in the Sixteenth Century: The Politics of Patrimony (1983), Beneath the Cross: Catholics and Huguenots in Sixteenth-Century Paris (1991), and From Penitence to Charity: Pious Women and the Catholic Reformation in Paris (2004, winner of the J. Russell Major Prize from the American Historical Association). She is currently completing a book manuscript on the contested early stages of France's Catholic Reformation.
Sara Beam (PhD, University of California–­Berkeley), associate professor of history at the University of Victoria (Canada), publishes widely on the history of early modern France and its borderlands. Her first book, Laughing Matters: Farce and the Making of Absolutism in France, winner of the 2008 Roland H. Bainton Book Prize, examines the censorship and regulation of satirical theater in France between 1450 and 1650. Her research also examines the practice of criminal justice in early modern Europe, with a particular focus on torture and its decline in the seventeenth century. She is currently preparing a book manuscript on torture and execution in Reformation Geneva.
Philip Benedict (PhD, Princeton University) was professor and sometime director of the Institute of Reformation History of the University of Geneva. His books include Rouen during the Wars of Religion (1981), The Faith and Fortunes of France's Huguenots 1600­85 (2001), Christ's Churches Purely Reformed: A Social History of Calvinism (2002), Graphic History (2007), and (with Nicolas Fornerod) L'organisation et l'action des Églises réformées de France 1557–1563: Synodes provinciaux et autres documents (2012).
Hilary J. Bernstein (PhD, Princeton University) is an associate professor at the University of California–­Santa Barbara. Particularly interested in the politics and cultural environment of French cities of the sixteenth and seventeenth centuries, she is the author of Between Crown and Community: Politics and Civic Culture in Sixteenth-­Century Poitiers (2004). She remembers with fondness attending the seminar of Robert Descimon in 1992 to 1994 while first doing dissertation research in Poitiers, and has returned to the seminar periodically, while in Paris, ever since. She is currently working on a book on urban history writing in French provincial cities in the sixteenth and first half of the seventeenth centuries.
Michael P. Breen (PhD, Brown University) is associate professor of history and humanities at Reed College (Portland, OR, USA). He is the author of Law, City, and King: Legal Culture, Municipal Politics, and State-Formation in Early-Modern Dijon (2007), as well as several articles on law, politics, and society in early modern France. He is currently working on a book tracing the growing importance of law as a social and cultural practice in medieval and early modern Europe, and a separate study of the legal and medical controversies surrounding marital annulment trials for impotence in early modern France.
James B. Collins (PhD, Columbia University) is professor of history at Georgetown University. He is the author of The Fiscal Limits of Absolutism (1988), Classes, Estates, and Order in Early Modern Burgundy (1994), The State in Early Modern France (2nd ed. 2009), and La Monarchie Républicaine: État et Société dans la France Moderne (2016).
Mark Critchlow (PhD, Sheffield University) teaches at (and has been acting head of) the Manchester Mesivta, an Orthodox Jewish high school for boys. He successfully defended his PhD thesis (directed by Mark Greengrass) on the Histoire Anonyme de la Ligue in 2015.
Jonathan Dewald (PhD, University of California–­Berkeley) is UB Distinguished Professor of History at the University at Buffalo, State University of New York. His books include The European Nobility, 1400–1800 (1996); Lost Worlds: The Emergence of French Social History (2006); and Status, Power, and Identity in Early Modern France: The Rohan Family, 1550–1715 (2015). He also edited the six-­volume Europe 1450 to 1789: Encyclopedia of the Early Modern World (2004).
Mark Greengrass (DPhil, Oxford University) is emeritus professor of early modern history at the University of Sheffield and a member of the Centre Roland Mousnier, Université de Paris–­IV (Sorbonne). His recent publications include Christendom Destroyed. Europe, 1517–1648 (volume 5 of the Penguin History of Europe; 2014).
Mack P. Holt (PhD, Emory University) is professor of history at George Mason University. He has published a variety of books and articles on the Reformation and Wars of Religion in France, including most recently "Religious Violence in Sixteenth-­Century France: Moving Beyond Pollution and Purification," in Ritual and Violence: Natalie Zemon Davis and Early Modern France, edited by Graeme Murdock, Penny Roberts, and Andrew Spicer (2012); "La religion vécue en Bourgogne à la veille des guerres de religion," in Le bon historien sait faire parler les silences: Hommages à Thierry Wanegffelen, edited by in Fabien Salesse (2012); and "Les réseaux d'autorité et de pouvoir à l'hôtel de ville et au parlement à Dijon entre 1580 et 1630," Annales de Bourgogne 85 (2013).
Marco Penzi (PhD, Università di San Marino) is attached to the Groupe d'études ibériques at the École des hautes études en sciences sociales (GEI-­EHESS), Paris. He has published extensively, especially on the theologo-­political divisions in late sixteenth-­century France and Europe, and on the military and confessional engagement of French Catholic noble military in them.
Robert A. Schneider (PhD, University of Michigan) is professor of history at Indiana University and was editor of the American Historical Review from 2005 to 2015. He has published two monographs, Public Life in Toulouse, 1463–1789 (1989) and The Ceremonial City (2005). He has been a visiting professor at the National University of Ireland–­Maynooth and the University of Bristol, as well as a visiting fellow at All Souls College, Oxford, and twice directeur d'études invité at the École des hautes études, Paris. He is currently completing a book-length manuscript, "Dignified Retreat: Writers and Intellectuals in the Age of Richelieu."
Introduction: Robert Descimon and the Historian's Craft
by Barbara B. Diefendorf
1. Robert Descimon, the Annales Tradition, and the Social History of the Ruling Classes
by Jonathan Dewald
2. Law and Social History in Early Modern France
by Michael P. Breen
3. Local Officials and Torture in Seventeenth-­Century Bordeaux
by Sara Beam
4. Urban Elites and Politics in Sixteenth-­Century Dijon
by Mack P. Holt
5. The Notary as Rural Power Broker: Maître Coujard and Pierre Collenot, Syndic of Alligny
by James B. Collins
6. Reading Municipal Lists, Interpreting Civic Practice from the Insights of Robert Descimon to Seventeenth-­Century Bourges
by Hilary J. Bernstein
7. Qui étaient les députés? An Unknown Group of Protestant Leaders on the Eve of the First War of Religion
by Philip J. Benedict
8. Civic Engagement and Public Assistance in Sixteenth-­Century Paris
by Barbara B. Diefendorf
9. Unfinished Business: An Edition of the "Manuscript History of the League"
by Mark Greengrass, with Marco Penzi and Mark Critchlow
10. Gallicans Not Magistrates: The Dupuy Cabinet in the Age of Richelieu
by Robert A. Schneider
11. Intellectual Trajectories and Relationships of a French Historian
by Robert Descimon
Bibliography of Robert Descimon's Writings
Glossary
Contributors
Index
Mailing List
Subscribe to our mailing list and be notified about new titles, journals and catalogs.