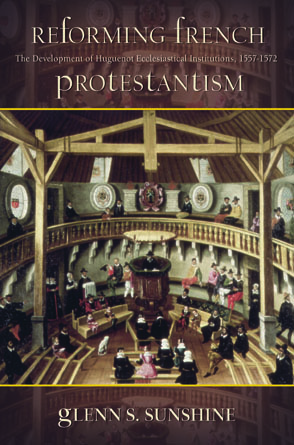 Reforming French Protestantism
The Development of Huguenot Ecclesiastical Institutions, 1557–1572
Glenn S. Sunshine
BUY
Reforming French Protestantism
The Development of Huguenot Ecclesiastical Institutions, 1557–1572
Glenn S. Sunshine
"Practically every Calvinist church created in the sixteenth century adopted a Confession to define its faith and a Discipline to organize its institutions. Glenn Sunshine's fresh and solid book is a superb analysis of the Disciplines created in France to give a synodical and presbyterial structure to their Reformed churches. This French model was to have tremendous influence throughout the Reformed world. As Sunshine points out, however, many churches within France itself, especially those created and patronized by noblemen, did not fit within the system. This book is one of the earliest major products of a team directed by Bernard Roussel that plans to provide us with critical editions of these Disciplines. It is a major contribution to knowledge that anyone interested in Reformed ecclesiology will want to examine."
Description

Reviews

Bio

Table of Contents
Theology encounters history and culture in sixteenth-century France in this examination of French Protestantism. The analysis reveals how Calvinism's growing influence led to the unification of French Protestant churches despite the opposition of the royalty. The interaction between newly adopted Calvinist theology and French society led to the development of the presbyterian polity of church government, a concept that quickly spread through western Europe.
2005 Bi-Annual Huguenot Society Award
"Practically every Calvinist church created in the sixteenth century adopted a Confession to define its faith and a Discipline to organize its institutions. Glenn Sunshine's fresh and solid book is a superb analysis of the Disciplines created in France to give a synodical and presbyterial structure to their Reformed churches. This French model was to have tremendous influence throughout the Reformed world. As Sunshine points out, however, many churches within France itself, especially those created and patronized by noblemen, did not fit within the system. This book is one of the earliest major products of a team directed by Bernard Roussel that plans to provide us with critical editions of these Disciplines. It is a major contribution to knowledge that anyone interested in Reformed ecclesiology will want to examine."
"This book provides an interesting account of the institutional development of the French Reformed church—a history that is made all the more interesting in light of the hostile environment from which it emerged. Sunshine ably documents the differences between the structural ecclesiology of the Genevan and French Reformed churches at both the local and collective governmental levels—differences which are too significant to ignore."
"Reforming French Protestantism is easily the most thorough study to date of the institutional development of the French Reformed Church of the period."
"Reforming French Protestantism is an invaluable contribution to our knowledge of Reformed history, religion, and their interconnections with politics in protestantism's first half century in France. I know of no other study in English that so thoroughly describes the evolution of church governing structures and principles in France."
"Glenn Sunshine's book is a welcome addition to scholarship on the French Reformation and offers a much needed examination of the Protestant administration and discipline that developed there in the second half of the 16th century."
"This study…is enhanced by a list of early synods, a helpful index, and a solid bibliography. Having documented and explored a number of sources of French Reformed church polity, it lays a foundation for detailed examination of connections between French, Dutch, and Scottish polities."
"Reforming French Protestantism is an excellent, solidly researched and lucid presentation of a highly complex and fascinating moment in the religious life of France."
"An excellent, solidly researched and lucid presentation of a highly complex and fascinating moment in the religious life of France, out of which emerged a form of Church government distinct from other strands of the Reformed tradition, but which had considerable influence not only within France but also in other Reformed communities such as Scotland. Professor Sunshine is to be congratulated on an excellent—and readable—piece of work."
"Glenn Sunshine has written a very useful book, undermining once and for all the pervasive myth that began with the publication of the "Histoire Ecclesiastique des Eglises Reformees au Royaume de France," allegedly compiled by Theodore Beza in the sixteenth century, which implied that the French Reformed churches were nothing more than colonies of Geneva."
Glenn S. Sunshine received his PhD in Renaissance/Reformation history from the University of Wisconsin-Madison. He is currently associate professor of history at Central Connecticut State University.
Abbreviations
The National Synods
Acknowledgments
The Problem of the French Reformation
The Nature of Early French Protestantism
The National and Provincial Synods
Between the Province and the Local Church
The French Reformed Diaconate
The Consistory
Church Institutions and the Wider World
French Reformed Polity: Local and National Influences
Selected Bibliography
Index
Mailing List
Subscribe to our mailing list and be notified about new titles, journals and catalogs.