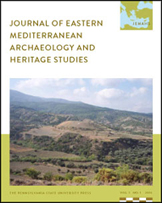 Ann E. Killebrew
Sandra A. Scham


Quarterly Publication
ISSN 2166-3548
E-ISSN 2166-3556


All correspondence should be sent to: Dr. Ann E. Killebrew ().
Digital submissions will be accepted through Editorial Manager®. Please visit http:/
/www.editorialmanager.com/jemahs/ and create an author profile. The online
system will guide you through the steps to upload your article for submission to the
editorial office. (For more information regarding copyright issues for authors, click here.) Papers should be limited to not more than 20–25 manuscript pages or ca. 6,000–7,000 words. Shorter papers are welcome, but an author wishing to submit a paper longer than 25 manuscript pages (including endnotes, references, and appendices) should consult with the editors in advance.
About Our Journals
Sign up for eTOCs through either JSTOR or Project MUSE!
Our journals are available electronically through JSTOR


and Project MUSE.
Penn State University Press Journals are distributed by Johns Hopkins University Press Fulfillment Services. By selecting the 'Subscribe' option, you will be redirected to the JHUP shopping cart for order processing. 'Johns Hopkins University Press' will appear on credit card statements
Pennsylvania History offers older issues via Open Access through the Office of Digital Scholarly Publishing
To contact the journals department with general questions about the program or to request article reprints, .