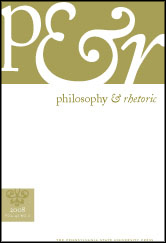 Gerard Hauser, Editor


Quarterly Publication
ISSN 0031-8213
E-ISSN 1527-2079


If you would like to submit an article to Philosophy and Rhetoric, please visit http://www.editorialmanager.com/pnr/and create an author profile. The online system will guide you through the steps to upload your article in Word format for submission to the editorial office. No manuscript under consideration for publication elsewhere may be submitted.
Books for review should be sent to the Book Review Editor, Philosophy and Rhetoric, Department of English, Humanities Building, University of South Carolina, Columbia SC, 29208, USA.
Editorial inquiries may be directed to the Managing Editor, Philosophy and Rhetoric, via .
Philosophy and Rhetoric invites articles on such topics as the relationship between logic and rhetoric, the philosophical aspects of argumentation (including argumentation in philosophy itself), philosophical views on the nature of rhetoric held by historical figures and during historical periods, philosophical analyses of the relationship to rhetoric of other areas of human culture and thought, political theory and law, and psychological and sociological studies of rhetoric with a strong philosophical emphasis.
About Our Journals
Sign up for eTOCs through either JSTOR or Project MUSE!
Our journals are available electronically through JSTOR


and Project MUSE.
Penn State University Press Journals are distributed by Johns Hopkins University Press Fulfillment Services. By selecting the 'Subscribe' option, you will be redirected to the JHUP shopping cart for order processing. 'Johns Hopkins University Press' will appear on credit card statements
Pennsylvania History offers older issues via Open Access through the Office of Digital Scholarly Publishing
To contact the journals department with general questions about the program or to request article reprints, .