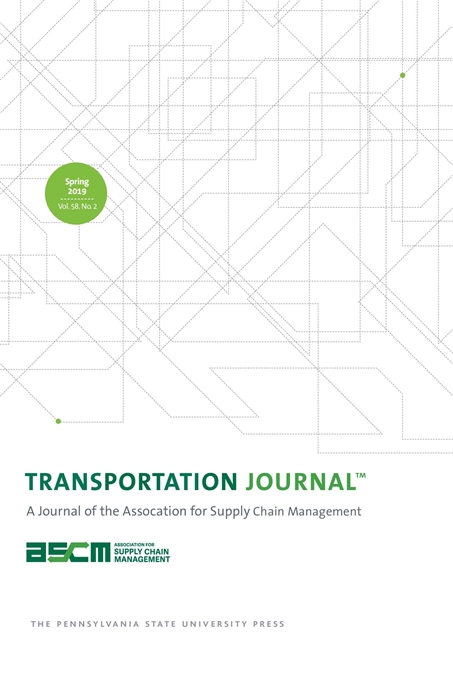 Transportation Journal
Yoshinori Suzuki, Editor
David Swanson, Editor
SUBSCRIBE / RENEW
Transportation Journal
Yoshinori Suzuki, Editor
David Swanson, Editor
Description

Board

Submissions

Pricing

Indexing
Transportation Journal is devoted to the publication of articles that present new knowledge relating to all sectors of the supply chain/logistics/transportation field. These sectors include supply chain/logistics management strategies and techniques; carrier (transport firm) and contract logistics firm (3PL and 4PL) management strategies and techniques; transport economics; regulation, promotion, and other dimensions of public policy toward transport and logistics; and education.
Submit your paper for a Special Issue on "Transportation Challenges and Solutions for 2020 and Beyond." Deadline: May 31, 2019. Visit the "Submissions" tab for details.
Journal News
Announcing the 2017-18 Best Paper Award Winner
"The Impact of Out-of-Stocks and Supply Chain Design on Manufacturers: Insights from an Agent-Based Model" by Claudia Rosales (Michigan State University), Judith M. Whipple (Michigan State University), and Jennifer Blackhurst (University of Iowa) and published in Transportation Journal 57.2 (Spring 2018) has won the Best Paper Award.
2017-18 Outstanding Reviewer
David Cantor (Iowa State University) was chosen as the 2017-18 Outstanding Reviewer for his service to the journal. Thank you, David!
It is a journal of the Association for Supply Chain Management.
Editors
Yoshinori Suzuki
David Swanson
Regional Editors
Juan Carlos Martín Hernández
S. I. Ivan Su
Associate Editors
John Bell
David Cantor
Thomas Corsi
Stanley Griffis
Robert Novack
Assistant Editor
Michael Belding
Book Review Editor
Robert Overstreet
Industry Notes Editor
Robert Overstreet
Editorial Board
Yemisi A. Bolumole
Haozhe Chen
Michael R. Crum
Patricia Daugherty
Martin Dresner
Thomas Goldsby
Scott Grawe
Curtis M. Grimm
Svienn Gudmundsson
Christian Hofer
Deepak Iyengar
Milan Janic
Carol J. Johnson
Scott B. Keller
Steve Leon
Ira A. Lewis
Robert C. Lieb
Michael Maloni
Karl Manrodt
Ila Manuj
Keith Mason
John Mello
Subhro Mitra
Paul R. Murphy
Tobin Porterfield
John Saldanha
Tobias Schoenherr
Richard D. Stewart
Pete Swan
Evelyn Thomchick
John E. Tyworth
Bijan Vasigh
David B. Vellenga
W. David Walls
Ling Wang
Robert J. Windle
Kefeng Xu
Zach Zacharia
Walter Zinn
To submit a manuscript to the editorial office, please visit http://www.editorialmanager.com/transjour/ and create an author profile. The online system will guide you through the steps to upload your manuscript.
Special Issue: Transportation Challenges and Solutions for 2020 and Beyond
SUBMISSION DEADLINE EXTENDED– May 31, 2019
Transportation managers are challenged today by dynamic commercial industries whose supply chains span the globe. The 21st century has ushered in an explosion in electronic commerce, online sales and data driven supply chains for products and services. In addition, the world continues to not only see population growth, but also increased urbanization and aging of our population. These changes are shaping where and how consumers demand their products, creating new challenges for transportation and distribution activities to provide the right time and place utility for customers. For example, transportation managers are seeing a growing need for improved omni-channel supply chain strategies, and innovative ways to deliver products during the "last mile" of delivery. Additionally, growing public concerns and increased policy for environmental and social sustainability are impacting how firms will be able to deliver goods to customers in the decades ahead. Finally, a host of new transportation technologies such as driverless vehicles, drones, and electric vehicle fleets, etc. appear to offer solutions for the future, but such options still need to be approved by policymakers, integrated into existing supply chains, and aided by management theory on how and when they should be used.
Papers for this Special Issue are due to the Guest Editors by May 31, 2019.
A non-inclusive list of appropriate topics for this issue includes:
- Last Mile Delivery Strategy and Theory Development
- The Use of Innovative Transportation Technologies in the 21st Century
- Infrastructure-Related Transportation Challenges in Emerging Nations
- Impact of Omni-Channel and E-Commerce Growth on the Transportation Industry
- Emerging Urban Logistics Challenges and Solutions
- Global Transportation Risk due to Urbanization, Population Growth, and Demographic Change
- Impacts of Evolving Transportation Regulation (e.g. Electronic Logbooks, etc.)
- Socially & Environmentally Sustainable Transportation and Distribution Solutions and Designs
- Transportation Investment Decision-making in the Future
- The Proactive Role of Transportation: Influencing Public Policy and Regulation
- Transportation Infrastructure Requirements and Options for Future Decades
Special Guest Editors:
Dr. John E. Bell
Myers Supply Chain Fellow &
Associate Professor of Supply Chain Management
University of Tennessee
Dr. Stanley E. Griffis
McConnell Professor of Business Administration
Michigan State University
Institutional Print & Online - $484.00
Institutional Print or Online - $347.00
Institutional Single Issue - $92.00
Individual Print & Online - $226.00
Individual Print or Online - $164.00
Individual Single Issue - $46.00
Outside US add Shipping & Handling - $40.00
IBZ
SCOPUS
Social Science Citation Index