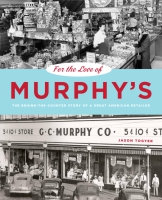 "For the Love of Murphy's is an excellent account of the history of a great five-and-ten. Jason Togyer has truly captured the 'behind-the-counter' view of an innovative retail organization."

—Larry R. Pollock,
Chancellor Emeritus, Penn State-New Kensington
University Park, PA—If you lived in Shelbyville, Hancock, Napoleon, West Newton, or any number of small towns throughout the eastern and midwestern United States during your childhood, chances are that you had a Murphy's store in your backyard. Now a lost treasure, G.C. Murphy Company stores dotted the map from the Canadian border in the North to the Rio Grande in the South and places in between. The popular five-and-ten-cent chain offered a variety of shopping experiences for the retail senses. Cosmetics, candy, toys, produce, hardware, apparel—and the famous lunch counter—linger as memories in the hearts and minds of loyal patrons. In this new book, Jason Togyer traces the intimate history of this retail icon, headquartered in McKeesport, Pennsylvania.

In an age of corporate corruption and financial crisis, For the Love of Murphy's offers lessons in humility. Murphy's is remembered today as a commercial trailblazer, a corporation run with honesty and integrity, and, at its peak, a retailer whose more than 500 stores managed to outsell those of the giant F. W. Woolworth Company by a factor of three to one. Though modern-day shoppers may not know the Murphy name, they know the legacy it left behind. From its adventurous selling tactics to its strict code of corporate ethics, the G. C. Murphy Company should be remembered not as a dusty relic, but as a pioneer in the American business world.

TABLE OF CONTENTS

List of Illustrations
Foreword
Preface and Acknowledgments

1 Bethel Park, 1970
2 A Revolution in Retailing
3 The Macy's of Appalachia
4 Can You Spare a Dime?
5 The Murphy Girls
6 At War at Home and Abroad
7 Meals at Murphy's
8 The Fabulous Fifties
9 The Pride of the Chain
10 McKeesport Yankees in Dixieland
11 Determination and Diversion
12 Happy Holidays
13 Home Runs and a Few Errors
14 Triumph and Trial
15 Aftermath and Legacy

Notes on Sources
Photo Credits

THE AUTHOR
Jason Togyer is managing editor of The Link, the magazine of the School of Computer Science at Carnegie Mellon University.