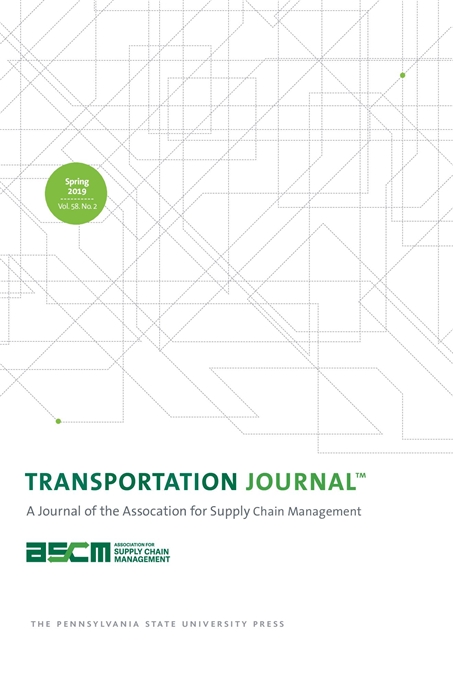 Transportation Journal
Bryan Ashenbaum, Coeditor
Yao Jin, Coeditor
David Swanson, Coeditor
SUBSCRIBE / RENEW
Transportation Journal
Bryan Ashenbaum, Coeditor
Yao Jin, Coeditor
David Swanson, Coeditor
Description

Board

Submissions

Pricing

Indexing
Transportation Journal is devoted to the publication of articles that present new knowledge relating to all sectors of the supply chain/logistics/transportation field. These sectors include supply chain/logistics management strategies and techniques; carrier (transport firm) and contract logistics firm (3PL and 4PL) management strategies and techniques; transport economics; regulation, promotion, and other dimensions of public policy toward transport and logistics; and education.

CALL FOR PAPERS: Special Issue Teaching 'Em Up: Preparing Tomorrow's Supply Chain Leaders. See Submissions for details.
It is a journal of the Association for Supply Chain Management (ASCM). ASCM is the global leader in supply chain organizational transformation, innovation, and leadership. As the largest non-profit association for supply chain, ASCM is an unbiased partner, connecting companies around the world to the newest thought leadership on all aspects of supply chain.
Coeditors
Bryan Ashenbaum
Yao Jin
David Swanson
Regional Editor
S. I. Ivan Su
Associate Editors
John Bell
Stanley Griffis
Haitao Li
Robert Novack
Robert Overstreet
Yoshinori Suzuki
Assistant Editor
Courtney Green
Editorial Board
Yemisi A. Bolumole
David Cantor
Haozhe Chen
Patricia Daugherty
Martin Dresner
Thomas Goldsby
Scott Grawe
Curtis M. Grimm
Christian Hofer
Deepak Iyengar
Milan Janic
Carol J. Johnson
Scott B. Keller
Steve Leon
Ira A. Lewis
Michael Maloni
Karl Manrodt
Ila Manuj
John Mello
Subhro Mitra
Paul R. Murphy
Koray Ozpolat
Tobin Porterfield
John Saldanha
Tobias Schoenherr
Richard D. Stewart
Pete Swan
Evelyn Thomchick
Bijan Vasigh
W. David Walls
Ling Wang
Zachary Williams
Kefeng Xu
Zach Zacharia
Walter Zinn
To submit a manuscript to the editorial office, please visit http://www.editorialmanager.com/transjour/ and create an author profile. The online system will guide you through the steps to upload your manuscript.
Special Issue
Teaching 'Em Up: Preparing Tomorrow's Supply Chain Leaders

Introduction:
Much has been written about the supply chain talent crisis. 2.4 million supply chain positions are expected to remain unfilled between 2018 and 2028 (Lebovitz, 2021). According to an article in the Harvard Business Review, 44 million people were employed in supply chain positions in the U.S. in 2018, making up 37% of the job market (Delgado and Mills, 2018). In this already tight market, two factors are now coming together: An increasing demand for supply chain talent due to growth in the sector and a shrinking supply as up to a third of current supply chain workers hit retirement age (Joseph, 2021). Unsurprisingly, the COVID-19 pandemic further exacerbated this crunch (van Hoek et al., 2020). Thus, job prospects for future supply chain graduates look bright. Not only can they get hired straight out of college, but they will also rise through the ranks quickly as current leadership reaches retirement age.
But does the rising generation of supply chain talent have the skills necessary to not only fill the void but propel our field forward? The internet is abundant with bullet-point recipes to success in a supply chain career, confidently asserting 5 (Ajilion, 2021), 7 (O'Byrne, 2020), or 10 (supplychaingamechanger, 2021)skills needed to become the prototypical supply chain champion of the future. Whatever list of ingredients you subscribe to, it is clear that a balanced mix of technical expertise and people-skills, seasoned with a generous dash of leadership ability will be necessary.
How does the education in our field stack up against this demand? What are supply chain educators doing in the classroom and virtually to prepare their students?
This Special Issue in the Transportation Journal aims to explore innovative and outcome-oriented teaching techniques, methods, and activities for current and future supply chain and operations management students. We invite researchers and educators to submit manuscripts detailing how they are educating their students, what content and skills they are covering, and why their approaches are successful. All submissions must have a strong connection to the field of supply chain management, logistics, transportation, or operations.
Topic areas:
As outlined above, the topical focus is rather broad. Relevant topics may include but are not limited to issues relating to
· Educational methods and techniques
· Approaches to effective company and executive engagement in education
· Classroom activities
· Assessment of learning outcomes
· Virtual and remote education
· Skill development
· The future of SCM education

Types of research:
We welcome empirical and conceptual manuscripts of high quality. Please keep to the following guidelines:
· Manuscripts with an empirical assessment of outcomes regarding specific learning goals are preferred.
· Submissions should be grounded in an appropriate theoretical basis.
· We welcome submissions detailing educational activities ("teaching briefs") – however, they must go above and beyond a purely descriptive nature; tie them to skill development and assess outcomes.
· Please submit manuscripts that contain actionable insights. Submissions must exceed a purely observational nature; what can educators learn from your work and how can they bring it to the classroom/virtual environment?
· Manuscripts detailing the transition to virtual or remote education due to COVID are welcome – however, they must surpass recounting Zoom experiences or other videoconferencing tools; tie them to skill development and assess outcomes.
· All submissions must have a strong link to the area of supply chain management or directly related fields. Submissions lacking this connection will be desk-rejected.
Timeline:
The deadline for submissions is August 31, 2022. Submissions must be made through the Journal's online manuscript management system.
Guest Editors:
Sebastian Brockhaus
Associate Professor of Supply Chain Management
John Carroll University
Steve DeNunzio
Senior Lecturer
Academic Director – Working Professional MBA Program
The Ohio State University
Remko van Hoek
Professor of Practice – Supply Chain Management Department
Sam M Walton College of Business, University of Arkansas

References:
Ajilion. (2021), "5 Things you need to know about Supply Chain Jobs", Ajilon, 29 June, available at: https://blog.ajilon.com/supply-chain-2/how-to-get-a-job-in-supply-chain/ (accessed 19 November 2021).
Delgado, M. and Mills, K. (2018), "The Supply Chain Economy and the Future of Good Jobs in America", Harvard Business Review, 9 March, available at: https://hbr.org/2018/03/the-supply-chain-economy-and-the-future-of-good-jobs-in-america (accessed 19 November 2021).
van Hoek, R., Gibson, B. and Johnson, M. (2020), "Talent Management For a Post-COVID-19 Supply Chain—The Critical Role for Managers", Journal of Business Logistics, p. 10.1111/jbl.12266.
Joseph, D. (2021), "Are You Prepared For A Supply Chain Talent Crisis?", Supply Chain Game ChangerTM, 10 October, available at: https://supplychaingamechanger.com/are-you-prepared-for-a-supply-chain-talent-crisis/ (accessed 19 November 2021).
Lebovitz, R. (2021), "The Big Supply Chain Talent Shortage", Future of Sourcing, 3 June, available at: https://futureofsourcing.com/the-big-supply-chain-talent-shortage (accessed 19 November 2021).
O'Byrne, R. (2020), "7 Essential Supply Chain Leader's Skills and Why You Need Them", 15 June, available at: https://www.logisticsbureau.com/7-key-supply-chain-leaders-skills-and-why-you-need-them/ (accessed 19 November 2021).
supplychaingamechanger. (2021), "Quantum Leap to the Top 10 Supply Chain Skills of the Future!", Supply Chain Game ChangerTM, 7 November, available at: https://supplychaingamechanger.com/supply-chain-skills-of-the-future-quantum-leap/ (accessed 19 November 2021).
Institutional Print & Online - $625.00
Institutional Print or Online - $448.00
Institutional Single Issue - $120.00
Individual Print & Online - $244.00
Individual Print or Online - $177.00
Individual Single Issue - $49.00
Outside US add Shipping & Handling - $24.00
IBZ
SCOPUS
Social Science Citation Index